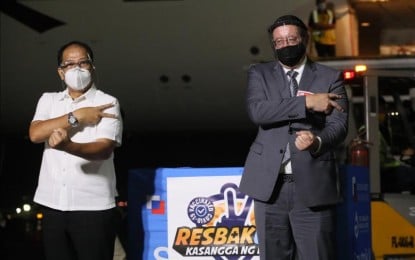 MANILA – Russia is working to gradually increase the delivery of its Sputnik V coronavirus disease 2019 (Covid-19) vaccine doses to the Philippines.
"First of all, I like to say that we are slowly and steadily increasing the amount of supplies of our vaccines and this is a very important message to the Philippines that we are glad to help the Filipino people in (this gallant) struggle against the disease," Russian Ambassador to Manila Marat Pavlov told reporters on the sidelines of the arrival of government-procured 400,000 Sputnik V doses at the Ninoy Aquino International Airport (NAIA) Terminal 2 on Thursday night.
The latest shipment that arrived via Qatar Airways Flight QR 92B consists of 200,000 doses of Component I and 200,000 Component II jabs.
The biggest shipment of Russian-made Covid-19 jabs in the Philippines so far arrived on October 16, totaling 720,000 doses.
Pavlov, meanwhile, expressed hope that the Philippines would also procure their one-dose Sputnik Light vaccine.
"The Sputnik Light is a one-shot jab. It is very efficient. We are confident that in your side of the vaccination, (National Task Force Against Covid-19 chief implementer and vaccine czar), Secretary (Carlito) Galvez will conduct the negotiation very fast and the Philippines (would get) another Russian vaccine," the envoy said.
He said Sputnik V is effective against new Covid-19 variants, such as Delta, while Sputnik Light can be used as a booster shot.
The country's Food and Drug Administration approved in August the emergency use authorization of Sputnik Light.
Meanwhile, Galvez expressed his appreciation to the Russian government for the latest delivery of Sputnik V jabs.
"We are very thankful to the Russian government, also to the Russian Direct Investment Fund, for giving us another major delivery. As of this moment, we have received 1.7 million Sputnik V Gamelaya vaccines and for this month, we are so happy that more than one million has been delivered to us. And they are committed to delivering more and we are looking forward to deliveries of over one million," he said.
Galvez added that many provinces have requested Sputnik V jabs and that this request would be met.
"In Isabela, they have requested 200,000 of this, and it will be delivered. Some of the different provinces that will be needing the vaccine, please tell us, call us and we will immediately deliver," he added. (PNA)