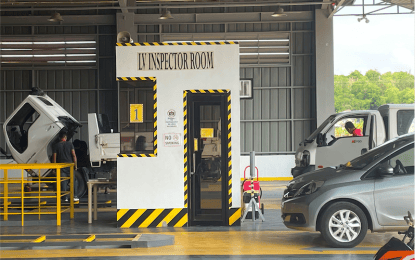 LAOAG CITY – Owners of motor vehicles and small-time private emission centers felt relieved on Tuesday following the latest directive of the Department of Transportation (DOTr) making the testing of vehicles in private motor vehicle inspection centers (MVICs) optional.
In an October 25 memorandum penned by Assistant Secretary Edgar C. Galvante addressed to all concerned authorities in the regional and district levels of the Land Transportation Office (LTO), it states that "the testing of motor vehicles in private MVICs is no longer mandatory." Hence, motor vehicle owners should be free to choose between private emission testing centers (PETC) and private motor vehicle inspection centers (PMVIC) in getting their vehicle tested.
Under the memorandum, private MVICs were also directed to lower their inspection fees to PHP300 for "for hire" vehicles, PHP500 for motorcycles, and PHP600 for other covered vehicles.
"This is a welcome development for us. Thanks to the government for listening to our concerns," said Wiliard Galing, a resident of San Nicolas town who is due to renew his vehicle registration next month.
Earlier, owners of private vehicles including members of the Sangguniang Panlalawigan of Ilocos Norte made an appeal to the LTO to reconsider the implementation of the Private Motor Vehicle Inspection (PMVI) which is an added burden to vehicle owners in this time of national health crisis.
Last February, President Rodrigo Duterte ordered the suspension of mandatory testing at private MVICs noting the need to balance the needs of the public amid the Covid-19 pandemic.
"My heart goes to the small business owners of private emission centers and I feel that it is not sensitive to the times," said Vice Governor Cecilia Araneta-Marcos in an earlier statement as she was among those who pushed for the temporary suspension of the PMVI until the new system's Implementing Rules and Regulations are made clear to everyone. (PNA)