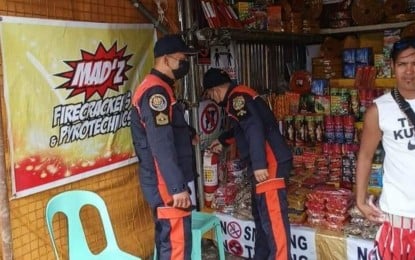 BACOLOD CITY – Some 46 locations have been designated as community fireworks display areas and firecracker zones in this city to welcome the New Year this weekend, a list of the Bureau of Fire Protection (BFP) on Thursday showed.
Chief Insp. Rodel Legaspi, city fire marshal, said they will conduct firetruck visibility operations with personnel on standby for quick response.
"The BFP will respond to any untoward incident that may occur during the fireworks displays," he added.
Based on the list, only 34 out of the 61 barangays have identified firecracker zones situated in basketball courts, gymnasiums, parks, playgrounds, roadsides, vacant lots, and other open spaces.
A total of 11 firetrucks with three personnel each will be deployed in specific areas during the New Year revelries.
Three firetrucks are on standby for the firecracker retailers stalls at the Reclamation Area until 10 p.m. of Dec. 31.
A firetruck will also be deployed during the New Year countdown event at the Government Center grounds.
Meanwhile, the city government here reminded Bacolodnons of the guidelines on the sale and use of firecrackers, particularly the strictly prohibited items.
Banned are firecrackers that are overweight in terms of net explosive ingredients and oversized such as "atomic big triangulo", "super lolo", and giant whistle bomb.
Also disallowed are items with short fuse and made of sulphur and/or phosphorous mixed with chlorates as well as imported finished products and unlabeled locally-made products.
Firecrackers considered small in size like "watusi" and "piccolo" are also strictly prohibited for causing injuries to the public, especially children.
On the other hand, the sale and use of consumer pyrotechnics or those referred to as "pailaw" such as "butterfly", "fountain", "luces", Roman candle, and sparklers, may still be allowed. (PNA)