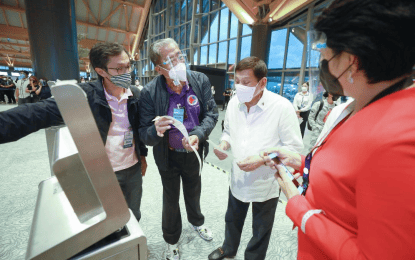 MANILA – President Rodrigo Duterte ensured Saturday that the new passenger terminal building (PTB) at the Clark International Airport (CRK) would allow passengers to enjoy a "safer and easier" air travel experience despite the prevailing coronavirus disease 2019 (Covid-19) pandemic.
Duterte gave the assurance, as he lauded the Department of Transportation (DOTr), the Bases Conversion and Development Authority (BCDA), and their partners from the private sector for the "massive" achievement of building a new terminal facility at CRK.
"I am pleased that this new terminal building that can accommodate [an additional] 8 million passengers a year kung pupunta sila dito (if they go here). This is twice the airport's current average capacity of more than 4 million passengers a year," he said during the inspection of the new PTB at CRK in Pampanga.
The newly-completed PTB at CRK is the first hybrid public-private partnership project completed under the Duterte administration's ambitious "Build Build Build" infrastructure program.
Duterte hoped that the public would be encouraged to explore the country amid the pandemic.
"As we continue to recover from the Covid-19 pandemic and adopt a new normal, may we all look forward to a safer, easier, and more comfortable travel and experience here and in our international airport," he said.
Duterte said the new terminal building at CRK would also help decongest the traffic at the "busy" Ninoy Aquino International Airport in Pasay City and provide a "better" flying experience for local tourists.
He expressed optimism that the local economy "can absorb the number of people coming to visit".
Duterte said the new facility at CRK would generate more jobs and boost economic activities.
"This structure before us reflects the administration's unyielding commitment to improve the quality of life of every Filipino by providing big-ticket infrastructure projects such as this that will improve connectivity [and] mobility, [and] create jobs, as well as economic activities," he said.
The new PTB will raise the airport's annual operational capacity to 12.2 million, adding another 8 million to the current 4.2 million.
It is also expected to boost the economic growth in North and Central Luzon, providing the regions their own gateway to the rest of the Philippines and the world. (PNA)