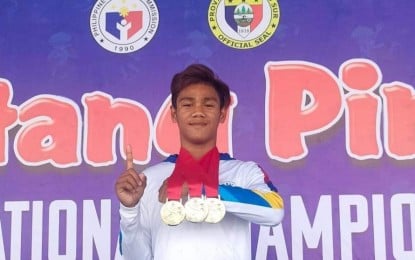 BACOLOD CITY -- Mico Villaran, the 15-year-old athletics standout here, is looking forward to joining international competitions abroad after winning three titles in the just-concluded Philippine Sports Commission-Batang Pinoy National Championships in Vigan City, Ilocos Sur.
The 9th grader from Romanito P. Maravilla Sr. National High School was the lone athlete who bagged gold medals for the City of Bacolod after ruling three events -- 110-m hurdles (15.1 seconds), 200-m dash (23.1 seconds), and 400-m hurdles (57.7 seconds).
"I'm excited and I'm eager to train hard not only to be able to represent the Philippines, but win medals as well. It's my dream to eventually compete for our country in bigger competitions like the (Youth) Southeast Asian Games," Villaran told the Philippine News Agency on Thursday.
He also hopes to avail of a varsity scholarship in college to finish his studies.
Villaran, who is shortlisted for consideration for the national team that would compete in the Asian Youth Athletics Championships in Tashkent, Uzbekistan on April 27, 2023, is scheduled to resume training right after Christmas.
Meanwhile, coach Miguel Arca only has high praises for his ward who had to surpass many challenges, even staying in school most of the time and not going home to his parents, so he can continue to train.
He said Villaran's hard work and sacrifices paid off when he became a bemedaled Batang Pinoy athlete.
He said his athletes, including Villaran and the seven other members of the Bacolod athletics team, had to train only in the school's 200-meter ground oval because there is no available 400-meter rubberized track oval for them to use.
But even then, Arca proudly said another of his rookie talents, 15-year-old Jorence Lopez bagged a silver medal in javelin throw, while the six others made it to the finals of their respective events.
"We need support for training, especially when we are preparing for international competitions," he said. (PNA)