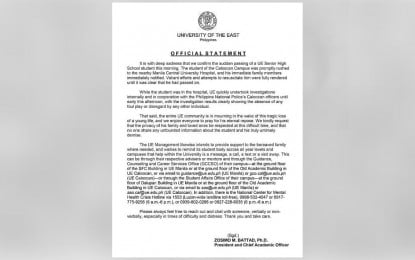 MANILA – The Department of Education (DepEd) has expressed its sympathies for the bereaved family of the 19-year-old senior high school learner who died inside the University of the East (UE)- Caloocan campus.

In a Viber message on Monday night, DepEd spokesperson Michael Poa requested privacy for the family following the learner's death.

"We extend our sincere condolences to the family of the learner, and join the request that their privacy be respected during this difficult time," he said.

Poa said the DepEd is coordinating with the UE for its needed aid.

"We have instructed the Schools Division Office concerned to coordinate with the University of the East for any assistance that the parties may need," he added.

The UE earlier confirmed the death of the learner despite rushing him to the Manila Central University Hospital.
"The entire UE community is in mourning in the wake of this tragic loss of a young life, and we enjoin everyone to pray for his eternal repose. We kindly request that the privacy of his family and loved ones be respected at this difficult time and that no one share any unfounded information about the student and his truly untimely demise," UE president and chief academic officer Zosimo Battad said.

Battad, meanwhile, urged all UE learners to avail of their universities' help whenever feeling in distress.

"The UE management likewise intends to provide support to the bereaved family where needed and wishes to remind its student body across all year levels and campuses that help within the University is a message, a call, a text or a visit away," he said.

"Please always feel free to reach out and chat with someone, verbally or non-verbally, especially in times of difficulty and distress. Thank you and take care," he added. (PNA)