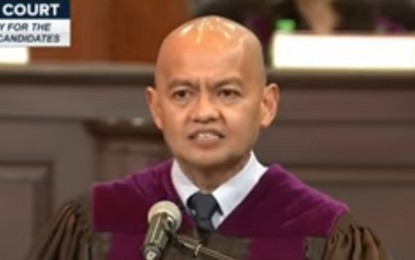 MANILA – The House of Representatives formally dismissed the impeachment complaint against Supreme Court Associate Justice Marvic Leonen on Wednesday.
With 165 affirmative votes, one negative vote, and one abstention, the House adopted Resolution 2068 dismissing the impeachment complaint filed by Edwin Cordevilla, secretary-general of the Filipino League of Advocates for Good Government.
In May, the House justice committee junked the impeachment complaint due to insufficiency in form.
Lawmakers argued that Cordevilla lacked personal knowledge and authentic documents to support his allegations.
"Being hearsay and not based on authentic record, we cannot take this as a ground even on the question of verification on the matter of the court," Leyte Rep. Vicente Veloso, panel chair, said.
The complaint accused Leonen, an appointee of former President Benigno "Noynoy" Aquino III, of alleged culpable violation of the Constitution and betrayal of public trust.
However, the magistrate said the issues raised in the impeachment complaint are false.
Ilocos Norte 2nd District Rep. Angelo Marcos Barba, a cousin of defeated vice presidential candidate Ferdinand "Bongbong" Marcos Jr, endorsed the impeachment complaint filed against Leonen.
In the complaint, Cordevilla accused Leonen of culpable violation of the Constitution for allegedly failing to dispose of at least 37 cases within 24 months.
Cordevilla noted that this violates the constitutional mandate requiring the speedy disposition of cases.
The complaint was filed after the camp of Marcos failed to make Leonen inhibit from the electoral protest case filed by Marcos against Vice President Leni Robredo.
Last February, the SC, sitting as the Presidential Electoral Tribunal, unanimously dismissed Marcos' electoral protest. (PNA)