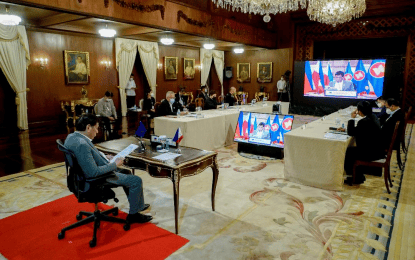 MANILA – President Rodrigo Duterte has enjoined his fellow Southeast Asian leaders to hasten the procurement of additional vaccines and attend to the needs of the vulnerable groups amid the prevailing coronavirus disease 2019 (Covid-19) pandemic.
Duterte made the call during his intervention at the 38th Association of Southeast Asian Nations (Asean) Summit on Tuesday.
Acknowledging that the fight against Covid-19 is far from over, Duterte said the 10-member Asean bloc should stand united to defeat the dreaded disease.
"Today's circumstances tell us one thing: The road to comprehensive and inclusive recovery will be long and difficult. While we welcome and appreciate the support of our external partners, we as Asean Community must be able to stand on our own," he said in his speech, based on a video uploaded Wednesday on the government-run Facebook pages.
Duterte also urged the Asean Secretariat to expedite vaccine procurement through the Covid-19 Response Fund.
"If there are still available funds, then we should purchase more," he said, adding that the regional bloc must ensure the "phased and comprehensive" implementation of strategies under the Asean Comprehensive Recovery Framework.
Duterte said Asean must also have its own regional vaccine research and production facilities to ensure that the region is "ready for future public health emergencies."
He also told his fellow Southeast Asian leaders to enforce the Asean Travel Corridor Arrangement Framework to revitalize their economies in the "soonest" time possible.
"As we have said before, an open multilateral trading system and a clear roadmap are vital to economic recovery," Duterte said.
Duterte also reminded the Asean member-states to make sure that vulnerable groups, including women and children, are given priority amid the Covid-19 pandemic.
"This pandemic has exacerbated inequalities within our societies. We must therefore address the unique needs of vulnerable groups, particularly women, children, persons with disabilities, indigenous peoples, and migrant workers, among others," he said. (PNA)