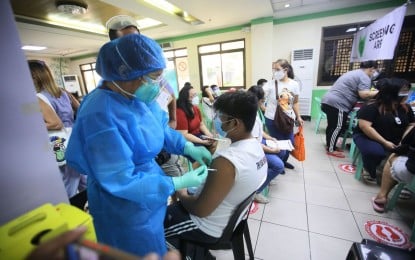 MANILA – Local government units (LGUs) nationwide will roll out pediatric vaccination beginning October 29, Secretary Carlito Galvez Jr., the chief implementer of the National Task Force (NTF) Against Covid-19, said on Friday.
Following the pilot in the National Capital Region (NCR) on October 15 and 22 for the 12-17 age group with comorbidities, Galvez said provinces will also be included next week.
"In the next few days, we are expecting to have an increase in our vaccination considering that we will be having a rollout of the children's vaccination in all LGUs," Galvez said in an interview during the arrival of more than one million Pfizer doses at the Ninoy Aquino International Airpo.
LGU vaccination sites, including hospitals, have been inspected in preparation for the inoculation of minors.
Some LGUs appealed that instead of hospitals, they will use their existing vaccination sites as their healthcare staff are trained on how to respond to adverse effects following immunization.
"We made some adjustments that some of these vaccination sites will be set up near hospitals," Galvez said.
The vaccines will be initially deployed to LGUs that have vaccinated at least 50 percent of their target population.
Only Pfizer and Moderna vaccines have been approved for pediatric inoculation.
The country has so far received 94,678,340 doses of various Covid-19 vaccine brands, both procured and donated.
Of the total, 54,444,161 have been administered.
A total of 25,101,222 Filipinos are fully vaccinated as of Friday and since vaccination began on March 1. (PNA)