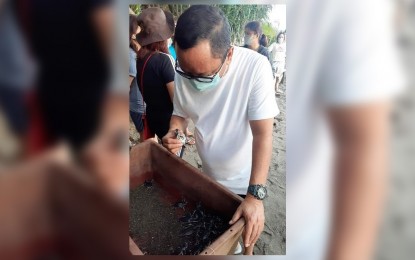 SAN JOSE DE BUENAVISTA, Antique – An endangered green sea turtle has found a safer place to lay her eggs at the marine protected area (MPA) of Barangay Funda-Dalipe here.
In an interview Friday, Municipal Environment and Natural Resources Officer (MENRO) Madelyn Pagunsan said a fisherman on Thursday spotted markings of the turtle in the area leading to five nests filled with eggs that are expected to be hatched within the next 40 to 60 days.
"The local fisherman was able to easily spot the markings of the turtle on the sand because of the size of its flippers," she said.
She added that it was already the seventh time that local fisherfolk was able to spot markings of the endangered species.
On July 2, the markings led them to the site of 70 newly-hatched eggs and another 86 eggs on the second day.
"We were able to release the hatchlings only last August 28 and 29," Pagunsan said.
Mayor Elmer Untaran led the release of the hatchlings back to the sea as part of conservation, she added.
The environment officer believed that it is the mother turtle that kept on coming back to the area to lay her egg. A mother turtle is capable of laying up to 700 eggs seven times in a season.
The MPA has rich vegetation and only a limited number of people stay in the area, making it an ideal place for the turtle to lay eggs.
She appealed to the coastal folk to help secure the other markings that would guide them to the nests.
The green sea turtle is considered an endangered species because only one out of every 1,000 hatchlings survives. (PNA)