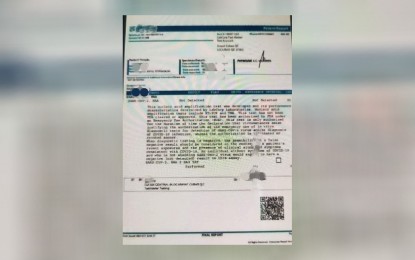 SAN JOSE DE BUENAVISTA, Antique – The provincial government here has cautioned its returning residents (RRs) against the modus operandi of individuals offering fake results of the reverse transcription-polymerase chain reaction (RT-PCR) tests.
The provincial government has already recorded five cases of fake RT-PCR test results detected upon arrival at the Caticlan Jetty Port in Malay, Aklan.
The latest involved three male RRs intercepted on Aug. 25 by the Sibalom Municipal Police Station (MPS) while onboard an L-300 public utility from Caticlan at the boundary of Sibalom and Belison towns.
Maj. Rex Farren, Sibalom Municipal Police Station (MPS) chief, in an interview on Thursday, said the arrested were turned over to the Sibalom Rural Health Unit (RHU) for appropriate actions.
In a separate interview, Cherrylyn Quanico, of the rovincial government who is in-charge of the RRs, said two incidents of the fake swab results were also apprehended at the Caticlan Port in August.
"The two separate incidents involved RRs from Sibalom and from Valderrama towns," she said.
She added that those arrested bared that they secured their laboratory results in exchange for PHP5,000 each at the Batangas Port before they boarded the roll-on roll-off ferry boat bound for Caticlan Port in Aklan.
Original RT-PCR results have a QR code, which when scanned will show the laboratory that performed the swab test.
RRs with fake RT-PCR results are required to undergo home quarantine for 14 days, Quanico said.