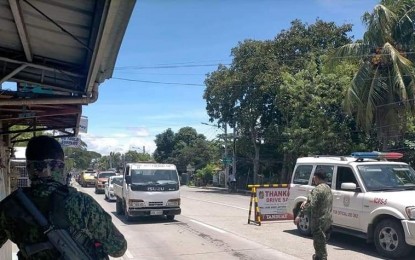 ILOILO CITY – The local government here on Tuesday reimposed the city-wide border control allowing only essential inbound travel of people within Panay Island to lessen the transmission of the coronavirus disease 2019 (Covid-19), particularly the more contagious Delta variant.
"It was decided to restore the border checkpoints -- only the essential personnel and authorized persons outside residence will be allowed entry in the city. I have also instructed our compliance team to strengthen monitoring and enforcement of minimum health protocols in barangays," said Mayor Jerry P. Treñas in a statement issued on Monday.
Those exempted from the suspension as mandated under Executive Order 75-C signed by the mayor included those traveling for work, medical needs, accessing government services, transport of good and/or construction materials, humanitarian purpose, vaccination, returning overseas Filipinos, locally stranded individuals (LSIs), and authorized persons outside residence (APORs).
However, the border control shall be non-operational every Thursday to allow unhampered passage of individuals seeking to receive their Covid-19 vaccines in Iloilo City, the EO added.
Every Thursday the city's vaccination program is open to both residents and non-residents of the city and those allowed to enter the city have to present a valid identification card at the border control.
Non-APORS working in the private sector who are allowed to work onsite, those engaged in business operating in the city or province of Iloilo, and other APORs in other livelihood sectors are required to present an additional travel pass to be secured from their barangay.
Those going to the airport should present their confirmed airline ticket, vaccine ticket for those getting vaccinated, and proof of affiliation for those attending burial service.
Further, those traveling for medical and humanitarian purposes have to show documents to prove their travel while returning residents shall have to present their certificate of residency.
The city has recorded additional 11 cases of the Delta variant as per the Aug. 21 result of the specimens from the Philippine Genome Center (PGC) released on Monday. The additional cases raised the city's total Delta variant to 15.
According to the City Epidemiology and Surveillance Unit (CESU), all cases have already recovered but will have to be subjected again to a swab test.