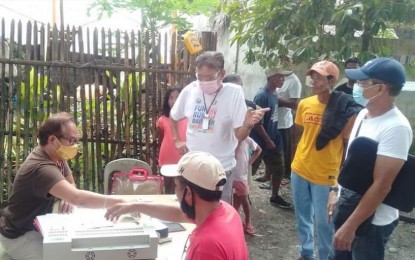 SAN JOSE DE BUENAVISTA, Antique – The sugar migrant workers (sacada) desk of the province of Antique is calling on contractors to enroll their workers in the Social Security System (SSS) for them to avail of benefits.
Sacada desk in-charge Randy Ardeño said on Tuesday they will be meeting with 63 sacada contractors on July 13 to discuss the new requirement for them to hire 3,286 Antiqueño workers for sugar plantations in Negros Occidental.
"Before the contractors could transport the sacada to Negros Occidental beginning last week of September this year they have to enroll them as SSS members first," he said in an interview.
He said that previously, the sacada, at the start of the milling season, were promised to be enrolled with the condition that it will be deducted from their wages.
The milling season starts last week of September until April.
However, they found out that the premium was deducted from their wages but never remitted by their contractor when they checked upon their return to Antique.
Ardeño added that Governor Rhodora J. Cadiao wanted to make sure that they are enrolled with the SSS before they leave for Negros Occidental for them to be protected and insured and avail of benefits in case of accidents.
"It could be possible that the planters or contractors will pay the insurance (premium) deductible from the sacada's wages," he said.
Cadiao has requested the Antique office of the Department of Labor and Employment (DOLE) and the Antique Provincial Planning and Development Office (PPDO) where the sacada desk belongs for the additional requirement, Ardeño said.
DOLE issues the Authority to Travel while the sacada desk provides for the valid identification (ID) cards of registered migrant sugar workers.
With the additional requirement, both will only be issued to those who are already enrolled with the SSS.
The Authority to Travel is presented to the Philippine Coast Guard (PCG) before they are allowed to board a passenger ferry going to Negros Occidental usually in the Iloilo City or Dumangas Port in Iloilo province.
In a separate interview, Leory Ninora, SSS Antique information officer, said that a member has to pay the premium of PHP400 per month; PHP265 will be shouldered by the employer and PHP135 by the employee, which will be deducted from their wages.
After a month of payment or premium contribution, they can already avail of benefits such as disability, sickness, and funeral claims.
Other claims like retirement can be availed after 120 months of contribution while women sacadas can avail of the maternity benefit after three months of contribution. (PNA)