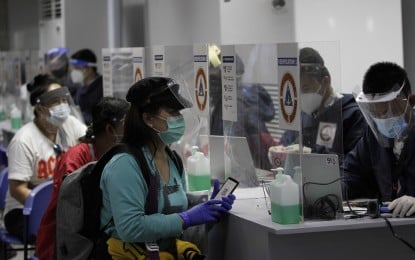 MANILA – The decision to shorten the quarantine for fully vaccinated Filipinos returning to the country will be beneficial to them and to the government, the Department of Labor and Employment (DOLE) said on Thursday.
"That is a good development decision of the IATF-EID (Inter-Agency Task Force for the Management of Emerging Infectious Diseases). It's only seven days. When you arrive, you will be tested on the fifth day. After you turn out to be negative, you can go to your final destination. The quarantine period has been lessened by three days," Labor Secretary Silvestre Bello III said in a virtual forum.
Bello said this will also mean lower government spending on assistance given to overseas Filipino workers (OFWs) who will undergo quarantine.
"That's a big deal for Overseas Welfare Workers Administration (OWWA), the cost of hotel, food, medicine will be reduced. And for OFWs, that's a big deal to their emotional burden," he added.
Bello, however, said they are ready to ask for more funds for the measure if needed.
"We asked for PHP9.2 billion in funding and we were granted PHP5.2 billion. Maybe, when we run out of funds, we will reiterate the request for an additional budget. President Duterte does not hesitate to help when it comes to OFWs," he said.
Bello reported that as of July 6, there are some 605,000 OFWs who have returned to the country.
"We are expecting 30,000 to 40,000 more OFWs to return home. They are jobless. The others, even though they lost their jobs, did not show any intention to go home. They are still hoping to get another job there," he said.
The IATF-EID, in Resolution 123-C, approved on June 28, agreed to shorten the quarantine for arriving passengers from "green" countries, so long as they have received the two Covid-19 vaccine shots.
"Green" countries are those classified by the Department of Health as "'low-risk countries or jurisdictions based on disease incidence rate."