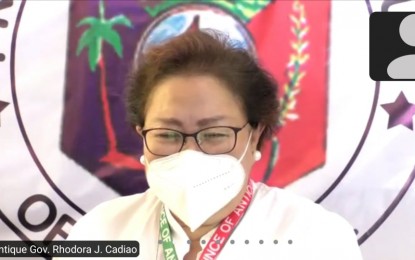 SAN JOSE DE BUENAVISTA, Antique – Antique province will be under general community quarantine (GCQ) from July 1 to 31, Governor Rhodora Cadiao announced on Tuesday.
The National Inter-Agency Task Force for the Management of Emerging Infectious Diseases (IATF-EID) gave the province a stricter quarantine classification from its current modified general community quarantine (MGCQ) status.
The governor, in a virtual press briefing, said she will be coming up with an executive order containing guidelines for the new classification.
"Antique will abide with the GCQ protocols and continue to implement curfew hours from 10 p.m. to 4 a.m.," she said, stressing that that minimum public health protocols should be complied with at all times.
The province as of June 29 has 330 active cases, 1,793 recoveries, and 107 deaths due to coronavirus disease 2019 (Covid-19), according to the Integrated Provincial Health Office (IPHO).
Meanwhile, the provincial IATF for Covid-19 passed a resolution during their meeting requesting the Department of Health Western Visayas Center for Health Development (DOH WV CHD) to provide more Covid-19 vaccine allocation for Antique.
"The Iloilo city government is already vaccinating 7,000 individuals per day but us since then had only vaccinated 30,000," Cadiao said during the meeting.
She said the availability of the Covid-19 vaccine is also the reason why there are only 30,000 individuals composed of health workers, seniors, and with comorbidity who had been vaccinated since the program was first rolled out in Antique on April 12. (PNA)