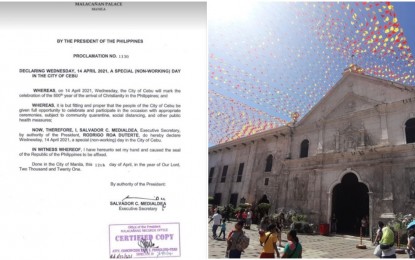 CEBU CITY – To give Cebuanos "full opportunity" to celebrate the 500th anniversary of Christianity in the Philippines, Malacañang declared Wednesday (April 14) a holiday in this city.
Proclamation No. 1130 signed by Executive Secretary Salvador Medialdea under the authority of President Rodrigo Duterte, and released Monday night declared Wednesday a "special non-working holiday".
"(It) is but fitting and proper that the people of the City of Cebu be given full opportunity to celebrate and participate in the occasion with appropriate ceremonies, subject to community quarantine, social distancing, and other public health measures," the proclamation read.
Archbishop Jose Palma, in his speech during the cultural event at the Ayala Center Cebu, said: "He (Duterte) has declared that the culminating activities on Wednesday, the day of the anniversary of the First Baptism a holiday in Cebu City. We thank the President for such declaration".
On the other hand, Monsignor Joseph Tan, spokesperson of the Archdiocese of Cebu, said "It is a generous gesture that the President is allowing us in Cebu to feel this special moment in our history".
Tan said Duterte will be represented by Presidential Assistant for the Visayas Secretary Michael Dino in the Mass to be presided by the Papal Nuncio to the Philippines, Archbishop Charles John Brown, on Wednesday afternoon.
"We convey our promise to remember the President's intentions in our prayers on this day," he said.
The Cebu City Public Information Office also said in a statement Mayor Edgardo Labella is thankful to Duterte for approving their request to make Wednesday a non-working holiday.
Meanwhile, Labella reminded the Catholic faithful of the limitations imposed by the government for "physical activities" and urged them to join the celebration via social media platforms to prevent the spread of coronavirus disease (Covid-19).
On Wednesday, a reenactment of the First Baptism in Cebu will be held at the Plaza Sugbo at 3 p.m.
Archbishop Brown will preside the pontifical Mass beside the Magellan's Cross to commemorate the 500th Year of Christianity which will be followed by the declaration of the Basilica Minore del Sto. Niño as national cultural heritage. (PNA)