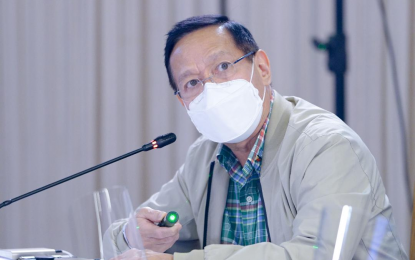 MANILA – Malacañang on Tuesday said the Commission on Audit's (COA) report on deficiencies in the Department of Health's (DOH) PHP67.32 billion allocation for the Covid-19 pandemic response has "unnecessarily" alarmed the public.
In a virtual press conference, Presidential Spokesperson Harry Roque said the COA's 2020 audit report on DOH made it appear that the agency is not spending the funds earmarked to address the Covid-19 pandemic.
"It unnecessarily alarmed people," Roque said. "Ang impression ng publiko, hindi ginastos yung PHP64 plus billion sa panahon ng pandemya. Eh nagastos naman pala (The public's impression is [the DOH] did not spend the PHP64 plus billion allotted to fight the pandemic. It turned out it spent the funds)."
Roque issued the statement, a day after President Rodrigo Duterte attributed the deficiencies in the DOH's allocation for Covid-19 response efforts in 2020 to "incomplete paperwork."
Duterte, in his pre-recorded Talk to the People aired late Monday night, said it is "pure b***s***" to claim that the COA-flagged DOH funds had been stolen.
Frustrated
Roque clarified that Duterte is not threatening COA when the President slammed its findings on the DOH's deficiencies in managing the Covid-19 funds.
Roque said Duterte is merely venting frustrations since the public has already condemned the DOH based on COA's "initial observations."
"I don't think he made any threats. He expressed frustrations kasi nga kung babasahin mo 'yung mga nalathala based on the preliminary observations eh para bang hindi ginastos ng Department of Health ang [PHP67] billion sa panahon ng pandemya (because if you read the reports based on the preliminary observations, the Department of Health did not spend the [PHP67] billion amid the pandemic)," he said.
Roque said it is only normal for Duterte to defend the DOH, since it is unfair for the agency to be judged based on an audit report that has not yet been completed.
He, nevertheless, welcomed the COA's move to issue a clarification that the observed deficiencies in the handling of pandemic funds is not conclusive of corruption.
"COA itself came up with a clarification that they were not accusing the DOH of any misappropriation," he said. "So, how do you expect the President to react? And of course, COA had to make that clarification kasi ang naging public opinion is baka nga nagkakaroon ng kurakutan diyan (because the public opinion is there might be corruption there)."
Duque enjoys Duterte's trust, confidence
The COA earlier flagged the DOH's supposed failure to comply with existing laws and regulations in managing around PHP67.32 billion in Covid-19 response funds.
The DOH said the funds flagged by COA are "accounted for" and properly used for the pandemic response.
The COA's findings have prompted calls for Health Secretary Francisco Duque's resignation.
Despite renewed calls for Duque to resign, the Health chief continues to enjoy Duterte's "full trust and confidence," Roque said.
"All Cabinet members serve at the pleasure of the President, and Secretary Duque, according to the President last night, continues to have his full trust and confidence," he said. (PNA)