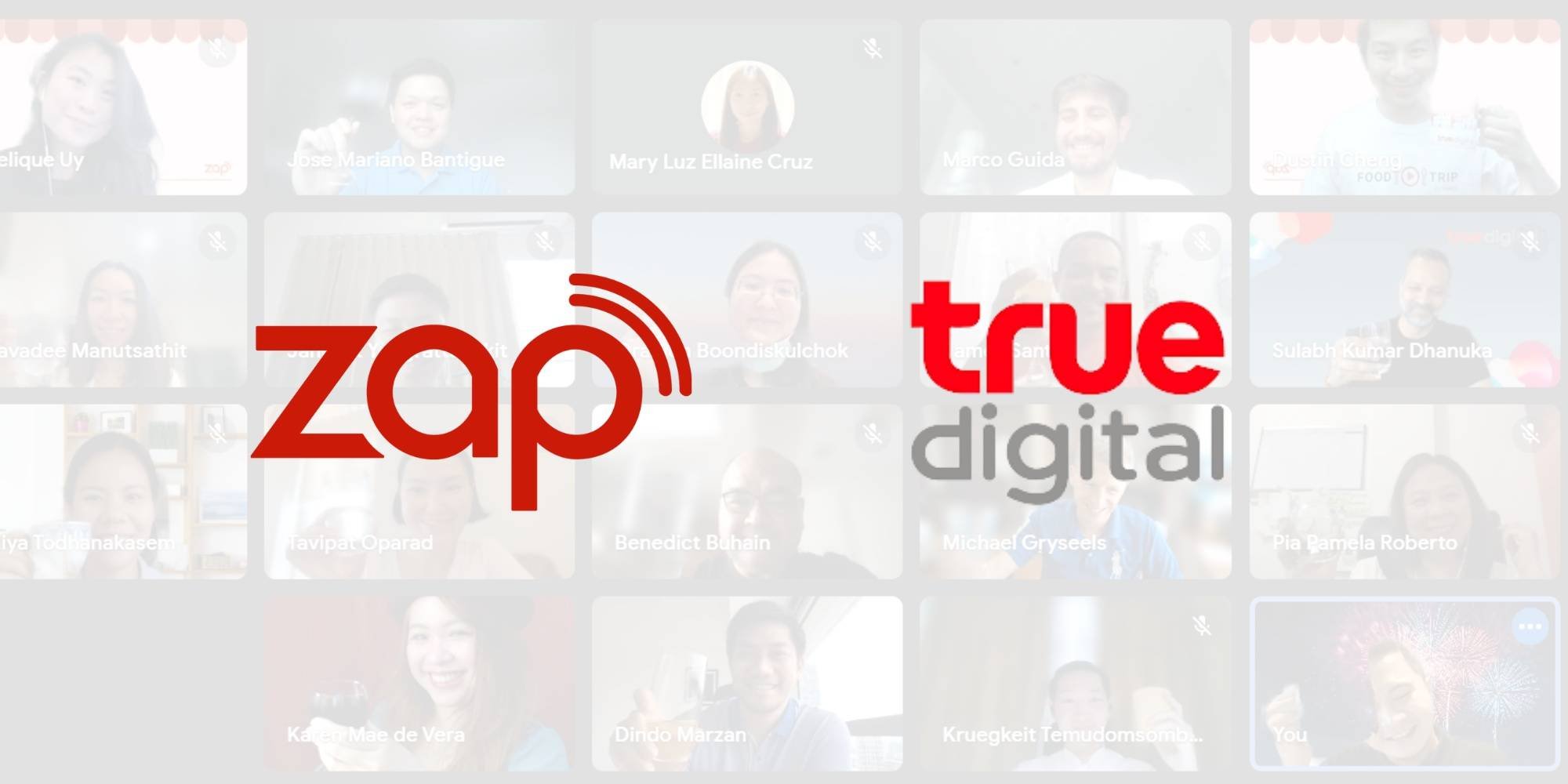 MANILA, PHILIPPINES – ZAP, the Philippines' top loyalty & e-commerce platform helping bring more F&B businesses online, announced that they secured Series A funding from True Digital Group (TDG) which is the digital arm of True Corporation Plc, Thailand's leading integrated telecommunications and digital services provider, focusing on digital innovations and offerings for various sectors from lifestyle and entertainment to industrial verticals.
"Working relationship with True Digital Group presents new synergies for ZAP in terms of smart retail and analytics" ZAP Group Inc. CEO and Co-Founder Dustin Cheng said and added that "It is good to have a partner such as True Digital Group, who can see past the short-term challenges and share in the long-term vision of ZAP.
"We are excited about the synergies between our digital media platform and ZAP's CRM and e-commerce capabilities, and see great potential in scaling our joint offering across Southeast Asia" said Dr.Michael Gryseels, Executive Vice Chairman, True Digital Group.
"To help close the gap in consumer's digital journey, we see a very hopeful opportunity with ZAP as the local market expert and believe that together, we will be able to deliver an exciting experience for consumers in the Philippines", Dindo Marzan, Country Head of Philippines, True Digital Group added.
ZAP made waves last year as it supported numerous Philippine F&B companies in pivoting and digitally transforming their businesses amidst the challenges of the pandemic. Launched in 2012 as a mobile number-based loyalty and rewards program, ZAP launched its E-Store service in June 2020 in partnership with the world's largest E-Commerce SaaS Platform, Shopify.
The E-Store streamlines the order fulfillment process by digitizing multiple and disparate restaurant operations – such as order taking and inventory, payment, customer management, delivery and more – and centralizing them within a merchant's own e-commerce website, which ZAP helps build. ZAP's E-Store service gives greater control to F&B entrepreneurs in managing their business, allowing automation, customizability, and the integration of loyalty and rewards programs. ZAP E-Store also provides business owners higher profit margins as there are no commissions, a stark difference to that of the exorbitant rates of delivery apps.
In the little over a year since E-Store's launch, ZAP Group Inc.'s business has grown 5x. From supporting 75 stores at launch, as of August 2021, Zap is currently servicing 483 F&B companies in the Philippines. Aside from JiPan and Yogost, other partner brands include Macao Imperial Milk Tea, and Vikings.
"Everything we do is for the benefit of our partner merchants, and this fund-raise is no different," shared ZAP CEO Dustin Cheng. Our partner merchants can look forward to an even easier-to-use platform with more robust capabilities in the coming months. These include richer analytics and remarketing and targeting features that will help partners foster better customer relationships and ultimately increase sales.
"We've always put merchants' needs first. We're firm believers of data-driven decision making," expounded ZAP Group Inc. co-founder Angelique Uy.
ZAP envisions itself as growing into a one-stop-shop, an end-to-end platform that captures every interaction from the moment a customer steps into a business' doors – both in the physical and digital sense – to the point that they come back. Its ultimate goal is to add value that will be appreciated by both the merchant and customers through the tools and services they offer.
"We see ZAP as providing valuable customer insights to propel businesses to thrive in the new normal. In today's digital age, business competition is fierce and it's imperative to stand out and be top of mind to end users. We think a smart way to achieve this is by tailoring products and services to customers' individual wants and needs," shared Uy.
--------------------------
ABOUT ZAP GROUP, INC.
ZAP is the #1 rewards and loyalty program provider in the Philippines since 2013. We work with over 4M users and 2,000 stores including Chatime, Vikings Group, Nature Republic, Fredley Group of Companies, Havaianas and a lot more.
The ZAP E-Store platform was created to help F&B merchants of any size go online. Made for the food and restaurant industry, ZAP E-Store enables you to accept, fulfill, and deliver orders to customers with ease with your very own branded eCommerce website. With ZAP, merchants can offer same-day delivery with Grab or MrSpeedy integration. Give customers an easy-to-use online ordering platform for instant or scheduled pick up or delivery.
Learn more about how ZAP can help your F&B business adapt to the digital space. Visit our website here.
ABOUT TRUE DIGITAL GROUP
True Digital Group is one of the core businesses of True Group, Thailand's fully-integrated telecommunications, and digital service providers. Aiming to become the ultimate digital enabler in Southeast Asia, True Digital Group continuously expands its ecosystem to deliver a portfolio of high-quality digital services to customers. True Digital Group's key businesses include Digital Media, O2O and Privilege, Data Analytics, IoT and Digital Solutions, as well as True Digital Academy. True Digital Group has built deep competences in cutting-edge technologies such as artificial intelligence, big data, blockchain, cloud, Internet of Things (IoT), and robotics. With this, True Digital Group is able to build a unique ecosystem of digital platforms and solutions, addressing the digital needs of consumers, merchants, and enterprises. True Digital Group also launched its regional operations across Southeast Asia, with Indonesia and the Philippines as its first two markets. For more information, please visit www.truedigital.com