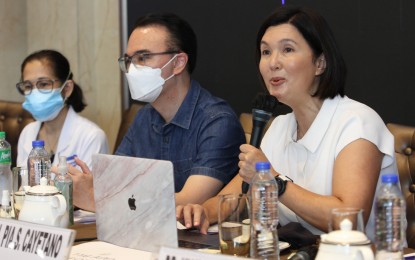 MANILA – Senators Pia and Alan Peter Cayetano chose to be independent in the 19th Congress and did not participate in the election of their colleagues.
Senate President Juan Miguel Zubiri, President Pro Tempore Loren Legarda, and Minority Floor Leader Joel Villanueva were installed at the start of the First Regular Session of the 19th Congress on Monday.
Still, the siblings extended their congratulations to Zubiri.
Pia Cayetano vowed to participate and work with her colleagues to make sure "nothing less than excellent work will come out of this Senate."
"As I have told the Senate President, he knows my commitment for the amazing work that the Senate will produce," she said in a statement on Tuesday.
Alan Cayetano had expressed his intention to be independent as early as the campaign season, saying he wants to be able to work more objectively as a lawmaker.
"Para 'pag tama 'yung (So that it is the right) policies, I will fully support them. 'Pag sa tingin ko mali 'yung (If I find it as a wrong) policy, I'll criticize but I'll suggest an alternative," he said in a previous interview.
Before the opening of the 19th Congress, the younger Cayetano led the prayer, where he asked for unity among senators and the grace of forgiveness. (PNA)