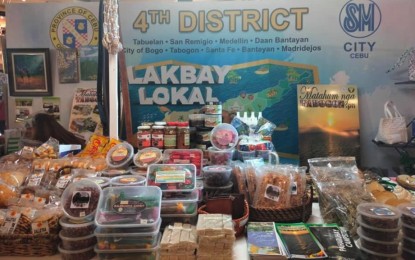 CEBU CITY – The provincial government of Cebu has launched the second leg of the Lakbay Lokal, a travel and trade fair that aims to promote the local products and popular tourist destinations around the province.
This is another program of the provincial government to revive the local economy here amid the coronavirus disease 2019 (Covid-19).
The Capitol, in partnership with SM Prime Holdings Inc., has been organizing this event at SM malls in Cebu –this time at SM City Cebu which runs from May 24 to 30– to help tourism businesses and delicacy-makers recover from their losses during the pandemic.
Provincial tourism officer Marti Ybañez said the one-stop trade fair was born out of the desire of the SM Group to launch a mutual and beneficial partnership with the provincial government to revitalize the local economy by helping small businesses and the tourism industry.
The travel and trade expo features products coming from different localities in Cebu province clustered by district.
Ybañez said this is also a venue for new products unique to Cebu to be introduced to the mainstream market.
Exhibitors and organizers are eyeing to surpass the sales during the first leg of the trade fair held earlier at the SM Seaside City.
"We have so much to offer. We have a lot of new products and well-known tourist destinations that we should be proud of," she said in an interview at the opening of the trade event on Monday.
Ybañez said the Lakbay Lokal, which was first launched in Cebu, will be implemented in other provinces.
Raphael Ryan Batuigas, SM's senior assistant vice president for marketing in Visayas, said they support the Capitol's programs and initiatives.
"We thank our dynamic governor, Gwen Garcia, for her efforts in rebuilding the economy of Cebu through her vital programs such as the Sugbo Negosyo and the Suroy-Suroy Sugbo," he said in his message during the opening ceremony.
Batuigas cited the provincial government's initiatives to spur economic recovery and promote Cebu's tourism industry as many livelihoods and people have been economically affected by the Covid-19 crisis.
Aside from showcasing homegrown products, crafts, and delicacies from the seven districts of Cebu province, the expo also promotes Cebu's famous destinations and offers travel packages and deals for local travelers.
Lakbay Lokal joins the R' Cebu Experience, a trade fair program of Robinsons Malls and the Capitol, which also showcases the famous local products and delicacies from the different municipalities and cities in Cebu province. (PNA)