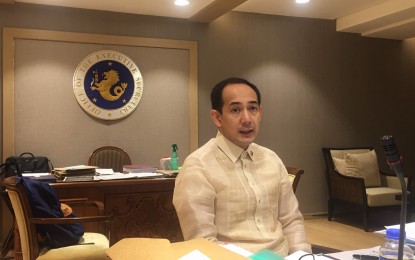 MANILA – Executive Secretary Victor Rodriguez on Friday quashed rumors that he stepped down from office.
In an interview with Palace reporters, Rodriguez said his alleged resignation is a mere "hearsay."
"I'm just here. I hardly go out of my office," he said.
Rodriguez said he would only quit if there are compelling "health and family reasons" to do so.
"But other than that, that's why I'm saying I don't want to think about those reasons because I do not want to get sick. I don't think anyone of us here wants to get sick. And the moment that you cite that as a reason to your employer, something must be seriously wrong with your health," he said.
He added that he would be willing to vacate his post if Marcos asks him to leave.
"The moment you said yes, automatic na rin na tinanggap mo na rin na (it's automatic to accept that) anytime, you will be asked to leave. But until that happens, then you stay," Rodriguez said. "So, malinaw dito sa (it is clear to the) present administration and all those serving under President Marcos that the moment that the President asked you to serve under his leadership, it goes without saying that there's no permanence."
According to an online site, Rodriguez and his "cohorts" allegedly tried to extort PHP100 million from those interested to join the Marcos administration.
He denied the allegations, saying it is "fantastic" to claim that he is demanding such a hefty amount of money from anyone.
"As you know, we are being followed and hounded by fake news as early as the campaign. And I think it will continue that way for as long as he is the President. Do we have to explain? We will only explain things that are coming from verifiable source or sources," Rodriguez said.