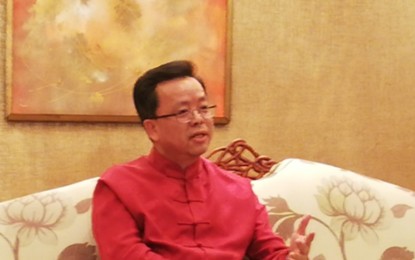 MANILA – About 10 million doses of China-manufactured vaccine against coronavirus disease 2019 (Covid-9) will be shipped to the Philippines within August 2021, the Chinese Embassy in Manila said on Thursday.
Of this figure, one million are donations while the remaining are government-procured CoronaVac vaccine.
"[T]he total number of China's vaccine delivered to the Philippines this month is expected to reach nearly 10 million doses, which would hopefully alleviate the shortage of vaccines here," Chinese Ambassador Huang Xilian was quoted in The Manila Times report as saying.
"China's vaccine is not only the first Covid vaccine to arrive in the Philippines, but also become the major source of Philippine vaccination, and their safety and efficacy have increasingly earned widespread recognition and trust among the Filipinos," he added.
Since the first batch of Sinovac vaccine arrived in February 2021, Manila has so received more than 25.5 million doses of the vaccine from China.
"Together with our Filipino friends, many memorable "firsts" were recorded. China was the first country to donate test kits, the first country to dispatch anti-pandemic medical expert team to the Philippines, and also the first country to issue special permit for the Philippine military air crafts and vessels to land and dock in China for transportation of medical supplies," Huang said.
He added that China will continue to extend help and support to the best of its ability.
Among others, it will work closely with Manila "to further synergize" the Belt and Road Initiative and the "Build, Build, Build" program and accelerate economic recovery and growth in the post-epidemic era.
For Huang, Manila and Beijing's bilateral cooperation has "pressed ahead against all odds" in the past few years.
He noted that bilateral trade has also scaled new heights, with the two nations' annual bilateral trade in goods reaching USD61.2 billion in 2020.
"In the first half of this year, our bilateral trade in goods topped USD37.5 billion, up by 53.5 percent year on year," he said.
China also became the Philippines' second-largest export market as its investments grown rapidly.
"In 2020, China's direct non-financial investment in the Philippines hit USD140 million, nearly 1.4 times increase year on year. In the first half, this indicator increased 2.3 times to over USD89 million," Huang said.
'New stage of harvest'
The government-to-government projects between the two have also stepped into a "new stage of harvest", the envoy said.
Under the Duterte administration, 13 projects worth USD 120 million, including the Dangerous Drug Abuse Treatment and Rehabilitation Centers, the Covid-19 Vaccine Donation Project and Estrella-Pantaleon Bridge have been launched and completed.
Eight others are under implementation with a total financing value of over USD1.1 billion. Four major infrastructure projects worth USD 2.2 billion, meanwhile, including the Samal Island-Davao City Connector Project, are under loan negotiation.
A list of pipeline projects worth billions of US dollars is also undergoing Philippine internal review and bidding process.
"I believe that as we further enhance China-Philippines pragmatic cooperation, and continue to bring our government-to-government cooperation projects and China's investment projects in the Philippines to fruition, more opportunities and dividends will be generated to benefit the peoples of both countries, and contribute to economic recovery and people's livelihood in the Philippines," Huang said. (PNA)