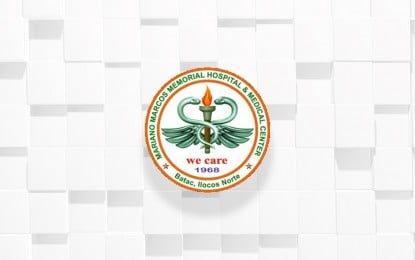 LAOAG CITY – The state-run Mariano Marcos Memorial Hospital and Medical Center (MMMHMC) in Batac City is putting up a field hospital to avoid overcrowding inside the hospital premises while waiting in line to get tested of the coronavirus disease 2019 (Covid-19) before admission.
In a public announcement on Wednesday, the hospital management is again seeking more donations in kind or in cash for the construction of a temporary facility which shall serve as holding area for probable suspect Covid-19 cases.
The construction of a field hospital near the Out Patient Department was proposed on Monday in view of the increasing number of Covid-19 patients in the province, where most of them are being referred to the tertiary level hospital, a primary treatment center for critical patients with viral disease.
"We will appreciate donations in kind and cash," said in the advisory, enumerating the construction materials needed such as: 6 pails of flat wall enamel, 4 pails of latex paint, 8 gallons of paint thinner, 1 gallon of green tinting color, 10 pieces of paintbrush/roller, 4 pails of enamel paint, and primer paints for concrete (2 gallons), wood (4 gallons, and metal (2 gallons).
For cash donations, it may be deposited to account name: Salun at Foundation Inc. with account number 2132-1038-12 at the Landbank of the Philippines, Batac City branch.
Early on, Dr. Ma. Lourdes Otayza, medical center chief II of the MMMH&MC, said they are thankful for the outpouring of support -- both from private and public groups and individuals.
"When consultations increased, the need for medical supplies also increased. We are thankful for your support and generosity," she said as the hospital continues to accept donations of personal protective equipment including other hospital essentials and some construction materials, among others, to cater to the increasing number of patients.
On Tuesday, Ilocos Norte has logged a total of 103 new Covid-19 cases, the highest number of infections recorded in a single day. There are 805 currently active cases out of the 4,155 cases since the start of the pandemic in the province which are mostly from the cities of Laoag and Batac, as well as the towns of Bangui, San Nicolas and Badoc.
With this, the hospital has again reminded residents to lower the chances of getting or spreading the virus by staying at home and avoid social gatherings.
"Stay-at-home directives are issued to protect you, your family, and the community. The more we do our part now, the sooner we can get back to normal," the hospital management advisory said. (PNA)