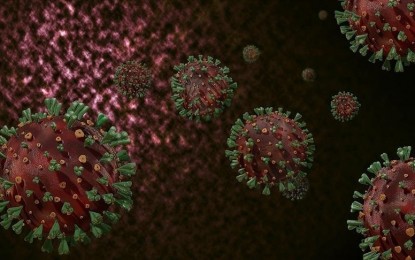 DUMAGUETE CITY – Two more variants of the severe acute respiratory syndrome coronavirus 2 (SARS-CoV-2), which causes the coronavirus disease 2019 (Covid-19), were detected "locally" in Negros Oriental.
In a virtual presser late Thursday, Assistant Provincial Health Officer Dr. Liland Estacion, Covid-19 incident commander of the province's Inter-Agency Task Force for the Management of Emerging Infectious Diseases (IATF-EID), said the variants are the P.3 or Theta (a local mutation first reported in Central Visayas) and the Alpha, formerly known as the B.1.1.7 that was first detected in the United Kingdom.
"These are local cases, not "imported" by returning overseas Filipinos or overseas Filipino workers who came back to the province in previous months and were reported to have tested for Covid-19 mutant strains, but had already recovered prior to arriving here," Estacion said in mixed English and Cebuano.
Estacion said her office received a report from the Philippine Genome Center on Thursday morning informing her that of the sample specimens taken from Covid-19 positive cases in the province for testing, two of them came back positive for the mutations.
The Theta variant case is in this capital city and has recovered while the Alpha variant patient is in Tanjay City, about an hour's drive north of here, she said.
Contact tracing is now underway to locate persons up to the third generation who were exposed to these patients, she added.
Estacion, however, declined to comment on whether the presence of these variants has contributed to the surge of cases in Negros Oriental, which resulted in placing the province under modified enhanced community quarantine (MECQ) from June 16-30, to stem the spread of the virus.
"I cannot yet say for sure if these variants have caused the spike in cases, but we will investigate and determine via contact tracing if these have now been transmitted locally and how the Covid-19 patients had contracted the variants," she said.
Asked why these variant cases, which health authorities say can spread faster and are more infectious, managed to enter the province without being detected, Estaction admitted they need to review and tighten security and border control measures after these were apparently "breached".
This is the first time Negros Oriental has reported an Alpha variant case while Theta cases were pegged at five, she said.
Regardless of whether there are variants or not, Estacion said people should still be mindful in strictly adhering to the basic health protocols considering that the surge of cases has already plateaued in recent days.
As of Thursday, the total caseload of Negros Oriental is 8,147, broken down into 5,659 recoveries, 2,363 recoveries, and 125 deaths.
Meanwhile, Estacion said the decline in Covid-19 cases is not an assurance that the MECQ will be lifted on June 30, as there will be a review process with the Inter-Agency Task Force for the Management of Emerging Infectious Diseases and recommendations from higher authorities on whether to change the quarantine classification of Negros Oriental by July. (PNA)