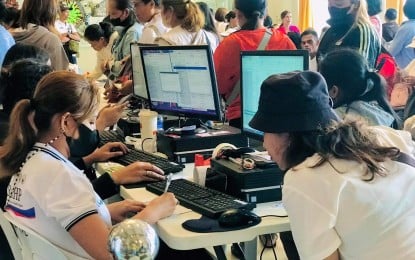 BACOLOD CITY – The city government here is using QR (quick response) code to monitor the attendance and assignments of job order (JO) workers hired for the implementation of various projects and programs starting January this year.
As of Tuesday, some 2,700 workers have been hired, and each is required to secure an identification (ID) card with a QR code that stores the encoded personal and work information of the cardholder, which will be scanned when they report for duty.
"The JO worker will be given an ID with a QR code. The QR code will be used as their 'time in, time out' system. At the moment, that is what we are using, but eventually we will have an automated daily time record so that we will know exactly if they are working at their respective posts or not," Mayor Alfredo Abelardo Benitez said.
He added that all JO employees are also being enrolled in an automated teller machine (ATM) account with the Land Bank of the Philippines for the payment of their salaries to address the long lines and long waiting time during payday.
"We enrolled them all for the ATM payment system. All job orders right now will be paid through the bank. They don't have to wait and they don't have to fall in line (at the cashier anymore)," the mayor said.
Each JO worker has a three-month contract and gets paid PHP10,000 each month.
Benitez said the current 2,700 job hires comprise the "bare minimum" needed to implement the city's existing programs, but more will be hired once several other programs will proceed this year.
"The basic concept of JOs is they are project-based. We want to make sure that when we hire them, they have something to do. We will hire workers accordingly. It is not a number that we have to fit. We want to make sure that all those hired are productive and doing something for the city," he added. (PNA)