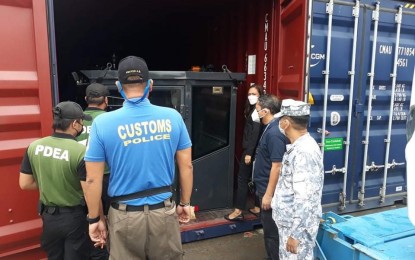 MANILA – The Bureau of Customs (BOC) Port of Cebu reported on Thursday the seizure of a misdeclared shipment containing brand new motor grader and parts worth PHP2.3 million.
Acting District Collector Charlito Martin Mendoza said the shipment arrived at the Cebu port on Aug. 17 from China, and declared as "used" motor grader and parts that were consigned to a certain VRB Construction Supply.
The misdeclaration was unraveled after X-ray scanning images from the X-Ray Inspection Project (XIP) Team, appeared suspicious, prompting the conduct of full physical examination on the shipment.
The assigned Customs examiner and representatives from the XIP, together with Customs Intelligence and Investigation Service, Enforcement and Security Service, Philippine Drug Enforcement Agency, and Philippine Coast Guard thoroughly examined the shipment and found that it actually contains brand-new motor grader and parts contrary to its declaration.
The shipment worth Php2,267,550 was seized on August 20.
Mendoza immediately issued a warrant of seizure and detention against the shipment after finding probable cause for misdeclaration, in violation of Section 1113 (F), (I), and (L-3,4, & 5) in relation to Section 1400 of the Customs Modernization and Tariff Act.
"Time and again, we remind the importers to properly declare their goods. The Port employs several layers of examination, from profiling, document-checking, x-ray scanning, to physical examination to ensure that the correct amount of duties and taxes are collected," he said in a statement.
"We will not hesitate in issuing a Warrant of Seizure and Detention for importations whose declarations vary from their actual contents," he added.
The seized shipment will undergo seizure and forfeiture proceedings in accordance with established rules and regulations. (PNA)