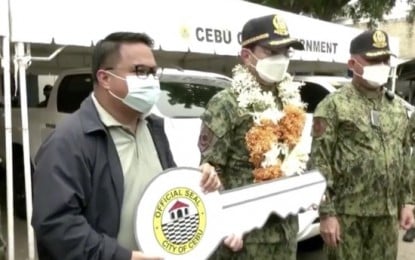 CEBU CITY – Philippine National Police (PNP) chief Gen. Guillermo Eleazar said the support coming from the triumvirate of the national and local government units (LGUs) and the private sector has bolstered the campaign against drugs and criminality and boosted the morale of the police force.
Eleazar issued the statement on Tuesday as he witnessed the turnover of four new Toyota Hilux pick-up trucks to the Cebu City Police Office (CCPO) by the Cebu City government, through Mayor Edgardo Labella.
In his speech during the event at Camp Sotero Cabahug here, he noted the constant engagement of the police force with the LGUs that has resulted in concrete actions afforded by the mayors in the form of assistance.
"It's because we believe that our LGUs, our LCEs (local chief executives or mayors) are seriously finding ways to extend help, as they know it that peace and order is a very critical in the development of every community," Eleazar said in mixed English and Filipino.
He said the support of the triumvirate has given more confidence in the police force and brought their service closer to the people.
"With the support the national government is giving to us, the doubled salary that we have received that we can't even imagine that it was given. The continued equipage and other resources provided to us by our national government with the LGUs giving their counterpart. All of these are being reinforced by the assistance from the advocacy support group," Eleazar said.
Legal Office chief Rey Gealon, who represented Labella in the event, pledged more help from the city, citing the police force's "sacrifices for the entire Filipino nation in the fight against coronavirus disease 2019".
"We could not have done it any better without the commitment of your resources as personnel and equipment are devoted in setting up of quarantine control points, round-the-clock mobile patrols, establishment of checkpoints, and enforcing minimum protocols of the IATF, issuances and mayor's executive order," Gealon said in his speech. (PNA)