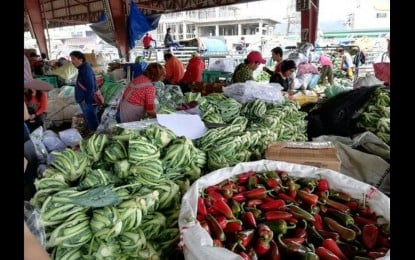 BAGUIO CITY – The La Trinidad municipal government thanked the Baguio City government for supporting the construction of a bypass road linking the two areas.
"Excellent and thankful that the city also sees our resolution as a solution to the problem. It is a welcome support that will benefit all those that travel to the north thru the Baguio-Bontoc road, including the vegetable truckers that carry highly perishable items," La Trinidad Vice Mayor Roderick Awingan said in a phone interview on Tuesday.
Awingan said the project will address the huge volume of vehicles passing the road connecting this city and Benguet's capital town which causes heavy traffic.
Awingan added that the city government's support to the clamor for such a project will be a boost for the Regional Development Council (RDC) to hopefully also endorse the project.
The city council passed a resolution on Nov. 26, 2022, signed by Mayor Benjamin Magalong a month later, proposing the construction of the multi-billion bypass road or bridge from La Trinidad to the city would not only greatly help mitigate the traffic congestion affecting both localities but also contribute to lessening air pollution in the area which will be a great advantage in the success of the government's environmental preservation and protection efforts.
The city's resolution supports the La Trinidad municipal council's resolution passed in 2020 asking the national government through the different agencies like the National Economic Development Authority, Office of the President, Departments of Budget and Management, Agriculture, Tourism, Trade and Industry and Public Works and Highways to allocate the amount of PHP5 billion for the construction of the La Trinidad-Baguio by-pass road or bridge along the Balili river in the municipality.
Awingan said their resolution was a result of a study conducted by the Saint Louis University (SLU)-Architecture and Engineering Department and the Japan International Cooperation Agency (JICA).
The study also included the possibility of putting up a structure that will also serve as a flood control.
"We saw the need for a separate road from the national highway, which is the only road that is generally used by the motorists in going to Mountain Province, Ifugao, parts of Benguet connecting Baguio City because there are many occasions when travel along the six-kilometer road takes a long time," he added.
He said the Baguio-Bontoc Road is also the only road used by truckers transporting vegetables to other provinces.
It also connects Baguio City to their town used by tourists who visit the Colors of Stobosa, (sitios of Stonehill, Botiwtiw and Sadjap), the vegetable trading post and the strawberry farms.
It is also the same road used by public utility vehicles going to Sagada in Mountain Province, the vegetable gardens in Atok and Buguias towns of Benguet, and other attractions. (PNA)