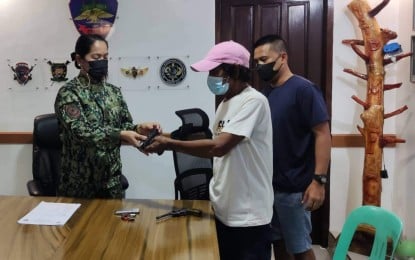 CAMP GEN. ALEJO S. SANTOS, Bulacan – A former collector and logistics officer of the Communist Party of the Philippines-New People's Army (CPP-NPA) has voluntarily surrendered to Bulacan police in Bocaue town on Thursday.
In his report on Friday, Col. Relly B. Arnedo, officer-in-charge of the Bulacan Police Provincial Office, identified the surrenderer as alias "Ka Alfie", 67, a fisherman, a former member who claimed to be an organizer, collector, and logistician of the CPP-NPA.
Arnedo said the joint elements of the Bulacan Provincial Intelligence Unit, 2nd Provincial Mobile Force Company, Philippine National Police-Special Action Force, and the Army's 70th Infantry Battalion facilitated the surrender of the former rebel.
He said that alias Ka Alfie also turned over two unlicensed firearms described as one .45-caliber pistol with seven bullets but without a serial number, and a .22-caliber revolver with four bullets.
The surrenderer is currently under the custody of the 1st Provincial Mobile Force Company for investigation and custodial debriefing.
"Bulacan police is stern on its intensified campaign against insurgency and terrorism to ensure the provision of social services, employment opportunities, and improved quality of life in communities that have been experiencing or are vulnerable to armed communist conflict," Arnedo said in a statement.
The CPP-NPA is listed as a terrorist organization by the United States, the European Union, the United Kingdom, Australia, Canada, New Zealand, and the Philippines.
The Anti-Terrorism Council also formally designated the NDF as a terrorist organization on June 23, 2021, citing it as "an integral and inseparable part" of the CPP-NPA that was created in April 1973. (PNA)