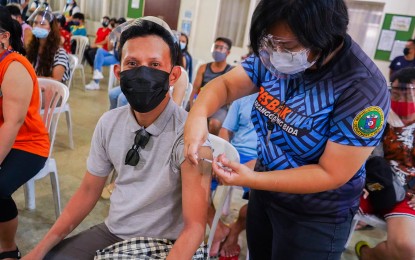 TACLOBAN CITY – The city government of Catbalogan in Samar is optimistic of more vaccine supplies following the establishment of a local cold storage facility.
Mayor Dexter Uy said the storage facility for Moderna and Pfizer jabs would make the city a priority for allocation of vaccines.
"We decided to have this facility to increase the number of people that are inoculated with vaccines against Covid-19 (coronavirus disease 2019). I am urging our residents to please have yourself registered for vaccination so that you will have protection against the virus," Uy said in a text message Thursday.
The ultra-cold freezer, which is the first in Eastern Visayas, arrived in the city last week, he said.
Doses of Pfizer vaccine need a -70 degrees Celsius temperature and can last in a specialty freezer for up to six months, while the Moderna vaccine may be stored in a freezer between -50 degree Celsius and -15 degree Celsius.
Uy added that although they have been receiving vaccines, they continue to exert efforts to order Covid-19 jabs for them not to depend on supply provided by the national government.
He urged residents to participate in the inoculation process by having themselves registered to have vaccination schedules when there are available vaccines.
Uy added that with the very limited vaccine supply, it is still hard for them to give a timeline of when to achieve population protection.
At least 70 percent of the 106,440 population of the city needs to be vaccinated against Covid-19.
Based on the latest report of the city health office, the city has a total of 13,370 fully vaccinated individuals.