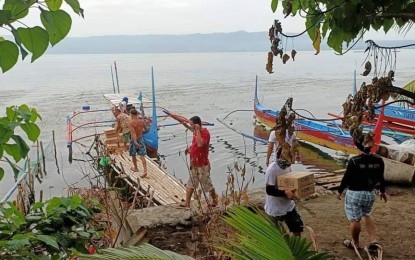 MANILA – Department of Agriculture (DA) Secretary William Dar on Tuesday assured Taal Lake fisherfolk, Batangas farmers and their families that the government through the Department of Agriculture (DA) is ready to help in the event Taal Volcano erupts again.
"Our 'OneDA' family in Calabarzon led by the Regional Field Office (RFO) and Bureau of Fisheries and Aquatic Resources (BFAR) is ready to provide technical assistance and distribute agri-fishery and livestock interventions in areas that may be affected," Dar said.
He said the agency has laid out immediate action plans and strategies for fisherfolk and farm families in lakeshore areas as well as nearby barangays who were also affected.
On July 1, Taal Volcano Island and lakeshore barangays and municipalities were placed under Alert Level 3 by the Philippine Institute of Volcanology and Seismology (Phivolcs).
The DA chief hopes there would not be a second massive eruption as the volcano did on January 12 last year. The 2020 event displaced thousands of families and recorded PHP3.4-billion losses in infrastructure, agriculture, fisheries and livestock in Batangas, Laguna and Cavite, according to the National Disaster Risk Reduction and Management Council.
No price hike in fish
In a press briefing, BFAR 4A regional director Sammy Malvas said an estimated volume of 109 metric tons (MT) of bangus and tilapia valued at PHP8.999 million was lost to a fish kill in Talisay, Batangas.
Despite this, Malvas said "consumption of fish from Taal Lake is safe, but it must be confined to those that are fresh and caught alive. Fish must also be washed thoroughly, internal organs removed, and cooked properly".
Even fish pen operators and fisherfolk operating in Taal Lake assured the public that their tilapia is safe for consumption despite the current restiveness of Taal Volcano.
"Yun pong phreatic explosion or dito sa amin ang tawag eh pabusngi-busngi ng bulkan ay 'di naman nakakaapekto sa tilapia. Bumagsak ang debris sa paligid din lang ng isla at iyon namang sulfur dioxide ang naapektuhan ay mga halaman. Balik na ang mga tao sa pagpapakain ng isda. Lalong hindi rin naman kinakain ng isda ang abo na galing sa bulkan (The phreatic explosion doesn't affect tilapia. The debris fell only within surrounding areas of the island while sulfur dioxide only affects plants. Moreover, fish do not consume ash from the volcano)," Nestor Natanauan, president of Taal Lake Aquaculture Alliance Inc. (TLLAI), said in a statement.
Natanauan said fisherfolk and fish farmers are aware of the dangers of Taal's possible explosion. Hence, feeding is done only in the morning, after which workers immediately return to the mainland.
He acknowledged the presence of Coast Guards in the area which prevents unscrupulous elements from stealing fish.
He also assured the public that Taal fisherfolk only harvest and sell fresh and live tilapia.
He said daily fish production from the 6,000 cages of TLLAI members is around 200-250 tons per day. This excludes artisanal tilapia caught outside their cages, as well as tawilis, maliputo, biya and other local species.
Malvas said for five years, the average tilapia production from Taal Lake is around 60,100 MT, of which 40 percent or about 24,000 MT are transported and supplied in Metro Manila.
Dar said there should be no price increase in fish. The average prices of tilapia and bangus are stable at PHP120 and PHP160 per kilo, respectively.
"We have more than enough catch from Taal Lake and other areas. We ask the traders not to take advantage of the situation. They should be part of the solution in providing sufficient food at affordable prices to our consumers," he added.
Meanwhile, Malvas proposed a PHP282-million budget for immediate assistance, and rehabilitation and recovery initiatives.
Part of it would be spent on: social and environmental assessment for water quality monitoring and analysis; food safety assurance to look into the environmental effects of volcanic ash to water quality and fishes; and information campaign and dissemination.
"For rehabilitation and recovery, our strategies we will allot technology and livelihood assistance; installation of real time water quality monitoring system; rehabilitation of production facility in Tanauan, Batangas; and technical assistance for fisherfolk and fish cage operators in accessing loans, among others," he said.
Aside from fish, farm commodities that may be affected include rice, corn, and high-value crops (banana, coffee, mango), livestock, and poultry.
DA-RFO 4A Director Vilma Dimaculangan, in a report to the DA Secretary, said if there is another eruption the agricultural supply chain would be affected, disrupting the transport of crops such as corn, rice, coffee, banana, fruit tree seedlings and planting materials.
Immediate assistance of DA-RFO 4A includes distribution of various agricultural interventions both for crops and livestock; market interventions including market logistics and linkage; and information dissemination particularly farm advisories.
"We will continue to monitor the activity of Taal along with an earnest prayer that hopefully, it will not erupt. Rest assured that whatever happens, your government will be here to extend assistance," Dar said. (PNA)