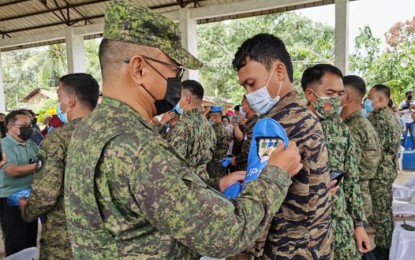 ZAMBOANGA CITY – The Western Mindanao Command (Westmincom) announced Thursday that a Joint Peace and Security Team (JPST) has been deployed in Barangay Datu Tumanggong, Tungawan, Zamboanga Sibugay.
The JPST is a peace-keeping force deployed in areas mutually identified by the Philippine government and the Moro Islamic Liberation Front (MILF). It is one of the transitional mechanisms established under the Comprehensive Agreement on the Bangsamoro (CAB).
The JPST, which was activated Tuesday, is composed of 30 members that include seven Army troops, eight policemen, and 15 MILF members.
Col. Antonio John Divinagracia, 102nd Infantry Brigade deputy commander, said the activation and deployment of the JPST is a result of continuing multi-stakeholder peacebuilding efforts.
"This is a great stride towards the attainment of our coveted peace not only in the Bangsamoro Autonomous Region in Muslim Mindanao (BARMM) but the entire Mindanao region," he said.
"This is also the time that the government is in dire need of the cooperation, coordination, and collaboration of the communities for the achievement of this goal. Rest assured that the men and women of the 102nd Infantry Brigade will always be your partner towards peace and progress in the region," he added.
The newly-activated JPST was deployed in Barangay Datu Tumanggong, which is the home of the MILF's 113th Base Command.
One of the highlights of the JPST activation was the donning of blue berets and brassards of the members of the JPST-Tungawan.
The Westmincom said alongside the road map toward the establishment of BARMM, a normalization process is being implemented by both the government and MILF.
Under the CAB signed between the government and MILF in 2014, the JPSTs have been tasked to support the maintenance of peace and order and stability in areas that will undergo the decommissioning process.
The decommissioning process is under the normalization track of the CAB, which aims to help MILF combatants make the transition toward a peaceful civilian life, while their communities are made progressive, and resilient.
The activation and deployment of the JPST were witnessed by officials of the military, police, BARMM, Office of Presidential Peace Adviser on Peace, Reconciliation and Unity, municipality of Tungawan, and provincial government of Zamboanga Sibugay. (PNA)