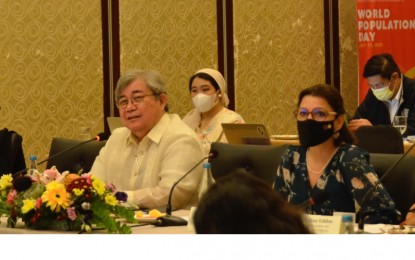 MANILA – The youth, who comprise about 20 percent of the Philippine population, and women will play crucial parts in attaining the much-aspired demographic dividend in the near future.
The Commission on Population and Development (PopCom) said Friday that young people and women are large parts of human resources and would serve as drivers in the country's further economic growth in the coming years while marching toward the fulfillment of "Ambisyon (Ambition) 2040", built on the Marcos administration's eight-point socioeconomic agenda.
"They will belong to a vital segment of the local workforce and employment, as well as contribute to national economic gains," Undersecretary Juan Antonio Perez III, PopCom executive director, said in a statement on Friday. "I anticipate the new administration to build on the current gains of our population programs and agenda, while fully harnessing the potential of our young people and women by heavily investing in their education and professional upskilling."
Demographic dividend is defined by the Population Reference Bureau as "the accelerated economic growth that may result from a decline in a country's birth and death rates and the subsequent change in the age structure of the population."
The United Nations (UN) Department of Economic and Social Affairs projects the global population to reach 8 billion by November, as stated in a published report titled "World Population Prospects 2022" released on Monday to mark World Population Day (WPD).
The UN suggests that the global population could grow to about 8.5 billion in 2030; 9.7 billion in 2050; and 10.4 billion in 2100.
"More than half of the estimated increase in global population up to 2050 will be concentrated in just eight countries: the Democratic Republic of the Congo, Egypt, Ethiopia, India, Nigeria, Pakistan, the United Republic of Tanzania, and the Philippines," the report said.
"People are the solution, not the problem. Experience shows that investing in people, in their rights and choices, is the path to peaceful, prosperous, and sustainable societies," Dr. Natalia Kanem, UN Population Fund (UNPFA) executive director, said about the report.
UNFPA Philippines, PopCom, and the Philippine Legislators' Committee on Population and Development met at Edsa Shangri-la Hotel in Mandaluyong City on July 11 with key government agencies and international development aid organizations to discuss pursuing people-centered population policies with sexual and reproductive health and rights in line with the report and the WPD 2022 theme of "A world of 8 billion: Towards a resilient future". (PNA)