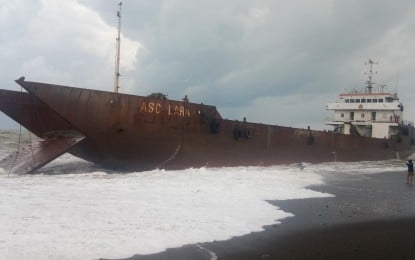 SAN JOSE DE BUENAVISTA, Antique – Strong winds and big waves stranded a barge approximately 200 meters away from the shoreline of Barangay Oloc, Laua-an in the northern part of Antique province on Thursday.
Senior Chief Petty Officer Alan Mandado, PCG Antique deputy station commander, said that barge ASC Lara that came from Barangay San Vicente, Palawan arrived in Barangay Ilaures, Bugasong on July 17 supposedly to load aggregates.
However, the vessel ran aground in strong winds and big waves due to the southwest monsoon.
While being towed on Thursday, the towing line was cut off prompting the vessel to be grounded anew in Barangay Oloc.
"The barge was already being towed by the M/Tug James from Barangay Ilaures, Bugasong to Pandan where it was supposed to seek shelter when its towing line was cut off," he said.
The barge needed to be towed from Bugasong to Pandan since its propeller was damaged.
Mandado added that all 17 crew members of the barge are safe onboard their vessel.
He said the barge will temporarily stay in the area until such time that there will be no more strong winds and big waves and it will be towed again "by the M/Tug James once the weather improves."