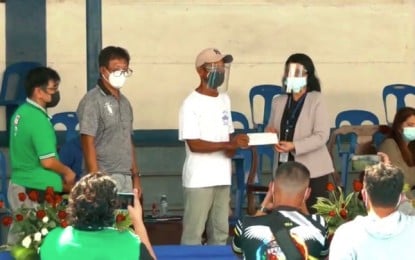 CEBU CITY – Another round of government service caravan will be conducted in 10 localities in Cebu province, to be spearheaded by the Presidential Communications Operations Office (PCOO).
The Philippine Information Agency (PIA)-Region 7 (Central Visayas), in a statement on Wednesday, said the "Duterte Legacy: Barangayanihan Caravan Towards National Recovery" is set on October 21 to 26.
PIA-7 head Fayette Riñen said the second round of the Cebu leg caravan of services will be done simultaneously with the launch of the nationwide caravan of programs and services organized by PCOO, Office of the Presidential Assistant for the Visayas, Department of the Interior and Local Government, and Philippine National Police.
The first caravan in Cebu last Sept. 30 was in Camp Sergio Osmeña Sr. here.
Riñen said the local government units that will participate in the caravan are: Lapu-Lapu City and town of Cordova on Oct. 21; Talisay City on Oct. 22; San Fernando and Barili, Oct. 23; Moalboal and Alegria, Oct. 24; Medellin and DaanBantayan, Oct. 25; and Bantayan on Oct. 26.
"With the caravan, the public will be informed of the government's landmark projects and services. At the same time, we will showcase the notable achievements of the Duterte administration that brought relevant changes to the lives of the Filipino people," Riñen said.
The caravan will also bring the basic government services down to the grassroots level and offers on-ground activities for the participants by featuring the "One-Stop Shop Serbisyo Caravan" from different line agencies.
The PIA-7 said the Department of Labor and Employment, Technical Education and Skills Development Authority, DILG, and the Department of Social Welfare and Development signified to join the activity to feature their one-stop-shop of services.
PCOO Secretary Martin Andanar, who is set to deliver a keynote speech, is expected to promote the legacy of good governance initiated by President Rodrigo Duterte.
Meanwhile, PCOO Assistant Secretary for Global Media and Public Affairs Assistant Secretary Jusan Vincent Arcena will lead the official presentation of the Duterte Legacy.