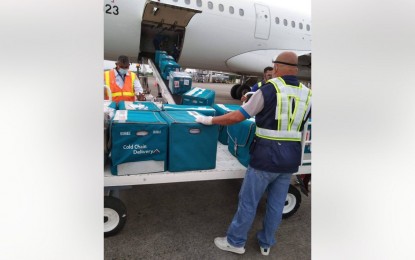 ILOILO CITY – Western Visayas will receive 150,000 vials of Sinovac vaccine on Wednesday, the Office of Civil Defense (OCD), the lead agency for the Cold Chain and Logistics Cluster of the Regional Vaccinations Operations Center, has said in an advisory.
"So far, this will be our biggest vaccine arrival," Cindy Ferrer, information officer and spokesperson of the OCD, said Tuesday.
Vaccines for Panay and Guimaras will arrive via the Iloilo International Airport while the office is still waiting for the flight details of the vaccines that will be transported via the Bacolod-Silay International Airport, Ferrer said.
Of the total allocation, Iloilo City will receive the biggest share of 50,000 vials and Negros Occidental, 34, 800.
Meanwhile, Aklan will have 8,160 doses; Antique, 8,240; Capiz, 10,840; Iloilo province, 27,640; Guimaras, 2,520; and Bacolod City, 7,800 doses.
Iloilo City's allocation of 50,000 vials was a commitment made by the national government after last week's conference call with Senator Christopher Lawrence Go, Health Secretary Francisco Duque III, and vaccine czar Secretary Carlito Galvez Jr.
An official of the Department of Health Western Visayas Center for Health Development (DOH WV CHD), in a virtual presser on Monday, said as of June 22, the region has received 591,980 doses of various vaccines against the coronavirus disease 2019 (Covid-19).
The figure is broken down into 429, 040 vials of Sinovac, 137,200 vials of AstraZeneca, and 25,740 doses of Pfizer.
"We have a total of 1,719, 387 master-listed for the priority Group A and we have 370,284 or 22.06 percent total vaccinated coverage," Dr. Bea Camille Natalaray, DOH WV CHD medical officer III, said.
In a meeting with local chief executives on June 15, the Western Visayas Regional Inter-Agency Task Force and the Regional Task Force Against Covid-19 passed a resolution for more allocations as "most of the LGUs in the region have already consumed the vaccines allocated to them and more are still waiting for more deliveries to be provided by the national government to resume its inoculation activities."

"Public acceptance of the Covid-19 vaccines in the region is high, as evidenced by thousands of residents flocking to vaccination centers daily to get inoculated," the resolution said. (PNA)