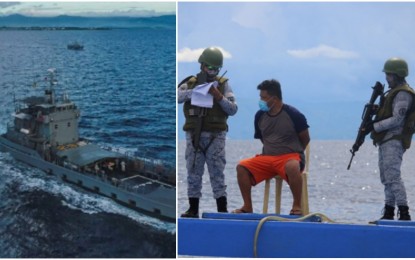 CEBU CITY – Over 100 Navy reservists from three regions in the Visayas are participating in a week-long naval exercise dubbed as Pagsasama 2021, aimed at boosting interoperability and integration among regular and reserve forces.
Commodore Ernesto Baldovino, Naval Forces Central commander, on Thursday, said the naval exercise for the reservists is an annual activity of the Philippine Navy designed to assimilate integration of the reserve to the regular force.
The subjects covered in the exercises were maritime operations, search and rescue, humanitarian and disaster response, amphibious raid and civil-military operations, he said.
"The Navy reservists undergo training, lecture and practical that will enhance their knowledge and skills on how our Navy operates in maritime operations involving different shipboard evolutions, maneuvers, amphibious raid, water search and rescue, and the conduct of maritime security operations in our area of responsibility," Baldovino told the Philippine News Agency in a message.
The drills gathered 102 Navy reservists from Central, Western, and Eastern Visayas regions, nine of whom are commissioned reserve officers and 93 are enlisted reservists.
Baldovino said the navies in the Naval Forces Central is fortunate that the exercise for the reservists is conducted in their area of responsibility, adding that last year's drills in Luzon were spearheaded by the Fleet Marine Ready Force.
"This exercise is specifically created for our PN reserve force (reservists and Philippine Navy affiliated reserve units) to be trained together with our PN regular force," he said.
He said they will also work for interoperability events with the inter-agency partners from the Army, Coast Guard and the police on some part of the exercises to foster good relationships and joint counter operations against enemies of the state.
The naval command in the Visayas conducted maritime operations utilizing surface events components at seawaters of Camotes Island in Cebu province on Tuesday.
Capt. Raul Regis, deputy commander, said vessels such as the BRP Batak, BRP Abraham Campo, BRP Alfredo Peckson, BRP Enrique Jurado, BRP Filipino Flojo, BRP Fort San Felipe, and 5th Patrol Boat Division joined the activity.
"Part of the exercise was the Gun Exercise (GUNNEX) event wherein navy surface assets tested and fired their naval guns. PN reservists were able to experience the firing of the naval guns in their designated navy ships," Regis said.
The Navy also gave a four-day lecture series for the reservists starting on Sunday to bolster their knowledge on operational and strategic concepts, maritime security and situational awareness, fleet and marine operations, and naval communications. (PNA)