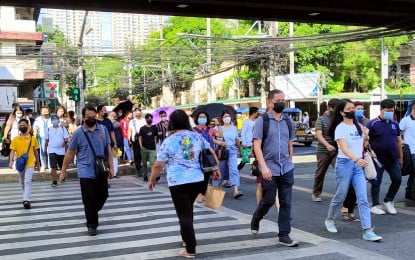 MANILA – The number of coronavirus disease 2019 (Covid -19) infections nationwide are less likely to reach 700 cases per day by Feb.15, a health expert said Wednesday.
In a televised public briefing, infectious disease expert Dr. Rontgene Solante said the Covid-19 cases have not significantly increased after the holidays and the Feast of the Black Nazarene, noting that most active cases only have mild symptoms.
"Doon sa mga na-ospital mayroon pa ring mga mangilan-ilan na na-admit, pero iyong mga hospital occupancy ng mga Covid infection, hindi tumaas more than 50 percent. So, nai-stabilize siya (There are still some admitted to hospitals, but the hospital occupancy for Covid infections, is not more than 50 percent. So, it is stabilized)," he said.
Earlier, the Department of Health (DOH) warned the public that infections may reach 730 per day by mid-February if observation of minimum public health standards is ignored.
Solante said the low number of cases could be attributed to population immunity.
"At this point in time, dahil marami nang nakatanggap ng primary vaccine series at marami na ring nagka-infection (many have received primary vaccine series and many already had infection). So, we have that hybrid immunity," he added.
On Monday, the DOH reported that the daily average of new Covid-19 cases further decreased to 419 in the recent week from last week's 447.
Only 17.2 percent or 402 out of the 2,340 intensive care unit (ICU) beds and 20 percent or 3,917 of 19,607 non-ICU beds utilized as of Jan. 15.
About 73,803,831 or 94.5 percent of the country's target population (78,100,578) are fully vaccinated while 21,241,707 individuals have received booster shots. (PNA)