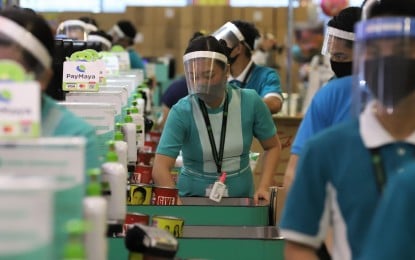 MANILA – Many employers in the Philippines are planning to recalibrate their employee benefit strategy as shown in a survey conducted by leading global advisory, broking, and solutions company Willis Towers Watson (WTW) in May and June this year.
In its 2021 Benefits Trends Survey released on Thursday, 76 percent of the local employers are mulling to improve and customize their employees' benefit programs over the next two years, with a sharp increase from just 36 percent as to date.
Of the number, 67 percent cited tight labor markets, followed by increased remote working of 57 percent, advances in technology for benefits of 56 percent and the increased focus on inclusion and diversity of 56 percent -- as top influences in driving their benefit strategy.
Susan La Chica, head of Willis Towers Watson's Health & Benefits-Philippines, said employers undertake increasing pressure to manage their benefit costs while at the same time finding new ways to support their employees' overall wellbeing amid the prevailing Covid-19 pandemic.
"Additionally, tight labor markets and the pivot to remote working or a hybrid work model, and a growing emphasis on diversity and inclusion are causing employers to look at their benefit strategies in a new light," La Chica added.
As a result, La Chica noted that many employers are now planning to enhance their benefit programs to create a competitive advantage.
In the Philippines, the survey says only 50 percent of the employers believe their benefit programs address the individual needs of their workforce, and 32 percent offers significant flexibility and choice in benefits.
It also showed 60 percent of those surveyed said they currently offer competitive benefits overall, and one-third considered their core benefits, such as health care and some other aspects of wellbeing, which seem "to be better than other employers' benefits."
Further, about 80 percent of the country's employers are eyeing to integrate their employee wellbeing into the benefit package which will be the top strategic benefit objective for their organizations for the next two years.
The survey also said 86 percent cited employee emotional wellbeing as their top priority over the next two years, followed by physical wellbeing (76 percent) and social wellbeing (73 percent).
Dr. Demosthenes Villarin Jr., medical director and head of Business Development, Health & Benefits, Philippines-Willis Towers Watson, said the current health crisis has worsen the employees' stress, burnout, and mental health issues.
This has been the main workforce concern of the employees, he added.
"Fostering employee wellbeing and resilience, therefore remain a top employer priority for the foreseeable future," Villarin said.
"This is clearly shown in our study as more than half (60 percent) of the organizations indicated that they plan to add or enhance their health care benefits as well as offer flexibility and choice in their benefits programs throughout the next two years," he added.
Improving employees' well-being at workspace
The WTW's recent well-being study also showed organizations in the Philippines are taking steps to support employees' health and wellbeing in four main areas including physical, emotional, financial, and social wellbeing.
In physical area, about 47 percent is eyeing to promote the use of mobile application to help their employees strengthen their physical wellbeing while 43 percent sees the use of virtual care in addressing their employees' needs.
In emotional area, 61 percent of employers are planning to measure the stress level of the workforce and other leading causes of it, while 51 percent of them intend to assess policies and procedures for response to workplace mental health emergencies.
In financial area, 45 percent sees the use of employer's human resource data to signs of financial stress among employees as 48 percent targets to set and track specific objectives for promoting financial wellbeing programs at pivotal decision points.
In social area, 36 percent targets to sponsor employee networks for different minority groups while the other 36 percent intend to review and develop policies and procedures to incorporate inclusion and diversity objectives.
According to the survey, most employers are also considering the use of technology to address health and wellbeing of their employees.
These include the use of online or virtual medical services, and those to aid mental or behavioral health, as well as wellbeing apps.
The two thirds of the respondents are also mulling for the adoption of a digital hub that houses all their benefits.
The survey also revealed that 46 percent of organizations in the Philippines believed that their benefit programs have enhance the employees' appreciation of the employment deal, with many are taking steps to boost the support and communication aspects.
More than one-third of the respondents are planning or considering the use of digital tools and technology to help employees feel connected and be productive while 48 percent are planning or considering the use of personalized communication to specific segments of the workforce.
The survey also showed that 54 percent of the respondents are considering managers training to identify and assist employees with their wellbeing.
La Chica said employers should start with a review of their benefits portfolio, noting that it "will be critically important for them to be able to manage benefit costs and optimize their investment in benefits."
"Their challenge will be to develop an equitable approach that meets the needs of all workforce segments while aligning with the benefit philosophy, culture and welfare programs with new ways of working and an enhanced employee experience," she added.
The result of the 2021 Benefits Trends Survey in the Philippines was based on responses from a total of 154 employers in the country, representing 646,000 employees. (PNA)