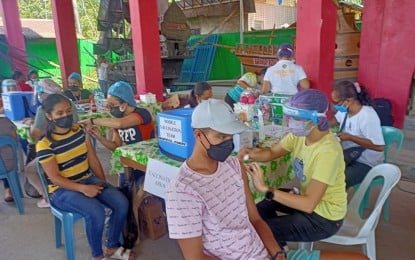 ILOILO CITY – The provincial government of Guimaras has strengthened its vaccination drive against the coronavirus disease 2019 (Covid-19) by conducting mobile inoculation in barangays to reach wider population coverage.
"This is a race against time.Kinahanglan doblehon naton ang aton paghimakas nga madamo nga pumuluyo naton ang mabakunahan para malab-ot naton ang herd immunity. We have to double time, that is why dal-on naton mismo ang bakuna sa mga kabarangayan (We need to double our efforts so more residents will be vaccinated and achieve herd immunity. We have to double time that is why we bring the vaccination to barangays)," Governor Samuel Gumarin said in a statement released by the Guimaras Public Information and Relations Office on Monday.
He said the provincial government decided to reposition its resources and expand the vaccination activities because Guimaras has one of lowest inoculation rates in Western Visayas.
Guimaras information officer III Liezl Galan-Gatinao said two mobile teams composed of volunteer nurses from the Department of Education (DepEd) and the Bureau of Fire Protection (BFP) were deployed for the mobile inoculation.
"Only Buenavista and San Lorenzo opted for the mobile vaccination. For Nueva Valencia, only their two island barangays Panobolon and Guiwanon were endorsed for mobile vaccination," she said in a phone interview.
The mobile vaccination commenced on October 20 for residents of Barangays Tamborong, Gaban, and Aguilar in the municipality of San Lorenzo benefiting 192 individuals.
The inoculation which was conducted in Barangays Suclaran and San Enrique in San Lorenzo and Barangays Sto. Rosario, Old Poblacion, Daragan, Montpiller and Rizal in the Municipality of Buenavista on Oct. 21 was availed by 612 eligible individuals.
An additional 684 vaccinees received their first jab from the mobile team that was deployed to Barangays Sapal and Constancia in San Lorenzo; and Bacjao, Getulio, Navalas, and San Miguel in Buenavista.
On the other hand, the municipalities of Jordan and Sibunag opted to have their residents inoculated at the provincial covered gym where there is a daily schedule of inoculation, she added.
Through the mobile vaccination, the provincial government hoped to vaccinate 3,378 a day to be able to reach the target 70 percent by Dec. 15 this year.
The province has 129,234 eligible population, of whom 67,183 have been vaccinated composed of 42, 011 for first dose and 25,172 for second dose as of Oct. 21.(PNA)