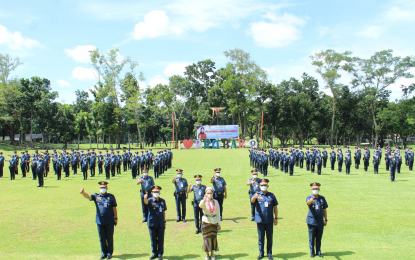 CAMP SK PENDATUN, Maguindanao – Maguindanao Gov. Bai Mariam Sangki-Mangudadatu has pledged all-out support to the programs and advocacies of the Police Regional Office – Bangsamoro Autonomous Region in Muslim Mindanao for the protection of communities in the province.
"As your governor, I am with you in the campaign against criminality, lawlessness, and all your advocacies about peace and development," Mangudadatu said during the PRO-BARMM's celebration of the Philippine National Police's 120th Police Service Anniversary in the region on Wednesday afternoon.
Mangudadatu was the guest of honor and speaker of the celebration held in this PRO-BARMM's main headquarters situated in Barangay Making, Parang, Maguindanao.
"Whoever is your enemy is the enemy of my province, we should unite because we have one mandate – that is to serve and protect our people," she added.
The governor also expressed her appreciation for the service rendered by the BARMM police that greatly contributed to the peace and order of Maguindanao.
With the theme "Hangad na Kalinisan sa Kapaligiran at Kommunidad; Ibayong Gampanan para sa Pangkapulisang Integridad," the celebration also gave due recognition to police personnel who showcased a notable service of dedication and selflessness that significantly contributed to the service.
The police service anniversary is a commemoration of the establishment of the Philippine Constabulary as the country's first insular police force founded on August 18, 1901.
Brig. Gen. Eden Ugale, PRO-BARMM director, has presented awards to police units and personnel cited for outstanding performance and achievements in service over the past years.
Ugale also lauded Mangudadatu for the support she extended, not only to the Maguindanao police force but to the regional police office as well.
The PRO-BARMM serves the cities of Cotabato, Marawi, and Lamitan; the provinces of Maguindanao, Lanao del Sur, Basilan, Sulu, and Tawi-Tawi; and also the 63 villages under the BARMM Special Geographic Area in six towns of North Cotabato province. (PNA)