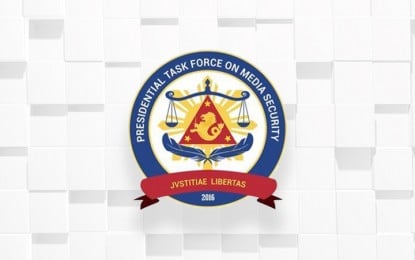 MANILA – The Presidential Task Force on Media Security (PTFoMS) is grateful for the unanimous approval by the House of Representatives of House Bill 454, otherwise known as the Media Workers Welfare Act (MWWA), on the third and final reading on Monday.
The MWWA seeks to uplift the economic welfare of media workers by granting them hazard pay, a living wage, employment safety and security, plus additional insurance and hospitalization benefits.
"Over 250 lawmakers voted for the bill with no negative votes and zero abstentions which shows the overwhelming aspiration of our lawmakers to improve the welfare of our media workers," the PTFoMS said in a news release on Thursday.
"This also serves as a fitting and timely tribute to those who fearlessly toil day and night to give the Filipino people the news, especially with the recent commemoration of the 13th anniversary of the Maguindanao Massacre where 32 media practitioners were killed," it added.
The bill entitled "An Act Providing Enhanced Protection, Security, And Benefits For Media Workers", was sponsored by Representatives Juan Fidel Felipe F. Nograles and Jeffrey Soriano.
In the explanatory note for the bill, lawmakers cited "the lack of enabling legislation that would codify the promotion of rights and welfare of media workers" and that "an overwhelming number of media workers are also not regularized which undermines their labor rights", as reasons for the enactment of the proposed law.
It should be recalled that the MWWA almost became law during the 18th Congress when it was also passed unanimously by the Lower House under House Bill 8140 through the sponsorship of former ACT-CIS party-list Representative now DSWD Undersecretary Rowena Taduran, and Representatives Eric Go Yap and Jocelyn Tulfo as early as January 2021.
The task force actively participated in the crafting of the bill and lobbied for its passage during the previous Congress. Unfortunately, despite the immense support in both the House and the Senate, the bill remained pending in the Senate's Labor, Employment and Human Resources Development Committee and failed to pass into law.
The Presidential Task Force is very confident that with the unequivocal commitment of the Marcos Administration to safeguard the rights of media workers, the House version of the MWWA will also be approved by the Senate in due time. (PNA)