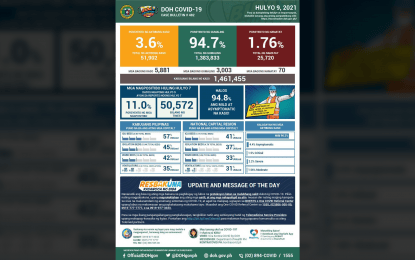 MANILA – The Department of Health (DOH) on Friday reported 3,003 new recoveries from the coronavirus disease 2019 (Covid-19), with the country's total recoveries now at 1,383,833 or 94.7 percent of all reported infections.
In its daily Covid-19 bulletin, the DOH also reported 5,881 new cases, bringing the country's active cases to 51,902 or 3.6 percent of all cases.
Of these active cases, 90.3 percent are showing mild symptoms, followed by the asymptomatic at 4.4 percent, those with severe symptoms at 2.2 percent, those with moderate symptoms at 1.56 percent, and those in critical condition at 1.5 percent.
About 70 new deaths were also reported, bringing the country's total casualties against Covid-19 at 25,720 or 1.76 percent of all cases.
Based on DOH's latest data, a total of 50,572 Covid-19 tests were administered on Wednesday, with 11 percent returning positive for the disease.
In the National Capital Region (NCR), many health care facilities remain available for Covid-19 cases with its 1,100 beds at intensive care units (ICU) at 41 percent occupancy, 4,700 isolation beds at 37 percent occupancy, 3,500 ward beds at 33 percent occupancy, and 31 percent of its 1,000 ventilators are in use.
For the entire country, there are 3,400 ICU beds at 57 percent occupancy, 19,400 isolation beds at 45 percent occupancy, 12,200 ward beds at 42 percent occupancy, and 35 percent of its 2,800 ventilators are in use. (PNA)