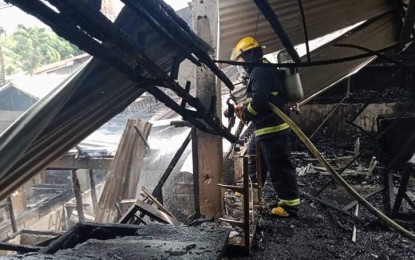 SAN JOSE DE BUENAVISTA, Antique – More than PHP780,000 worth of property went up in smoke when a fire caused by an LPG cylinder gas leak on Tuesday razed a meat shop and two nearby stalls inside the public market of Laua-an, Antique.
In an interview, BFP Laua-an Fire Officer 1 Rolly Chiva said the fire started around 11 a.m. inside the meat shop owned by Elesio Samillano.
"He tried to open the LPG but it (gas leak) was caught by flame of the candle he was holding in his other hand," he said, adding there was a power outage in the area during the time of the blaze.
Samillano obtained first-degree burns on his face and feet when the fire razed their meat shop and two nearby stalls.
The victim was immediately brought to the community hospital in Laua-an by responding Municipal Disaster Risk Reduction and Management Office (MDRRMO) personnel but was sent home after receiving medical treatment.
"The BFP personnel of Barbaza and Bugasong were also quick to respond during the incident," Chiva said.
He said in incidents of LPG leak, the tank should be immediately switched off so the gas will not further discharge and cause a bigger fire.