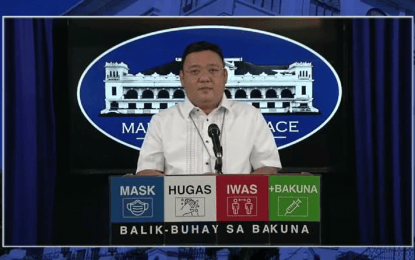 MANILA – It is only natural for Filipinos to get worried about catching the coronavirus disease 2019 (Covid-19), Malacañang said on Thursday.
In an online press briefing, Presidential Spokesperson Harry Roque said the public fear should not be linked to the government's Covid-19 response efforts.
Roque issued the statement, after the Social Weather Stations (SWS), in its Sept. 12 to 16 survey, found that 91 percent of 1,200 adult Filipinos are worried that anyone in their immediate family might acquire Covid-19.
Results of the SWS poll revealed that only 9 percent are "a little or not worried" about getting infected with Covid-19.
The latest number of people worried about catching Covid-19 is 4 percentage points higher than the 87 percent registered in June 2021 and ties the record-high level reached in November 2020.
"Hindi po. Ang kinatatakutan nila, 'yung virus (It's not like that. What they are afraid of is the possibility that they might get infected with the coronavirus)" Roque said, when asked if the SWS poll results reflect the Filipinos' sentiment that they are not confident with the government's way of handling the pandemic.
Roque said Filipinos could not be blamed if they are afraid of catching Covid-19.
He said following the minimum public health standards could keep them safe from the dreaded disease.
"Dapat lang po kayong matakot kasi kapag hindi kayo nag-mask, hugas, iwas, at bakuna, talagang puwede kayong magkasakit at puwede kayong mamatay (You should really be afraid because you do not wear a mask, wash your hands, observe social distancing, and get vaccinated, you will really catch the disease and might die)," Roque said.
The same SWS survey also revealed that around 60 percent of Filipinos are worried that "the worst is yet to come" with the Covid-19 crisis.
The figure is higher than the 39 percent posted in June 2021 and surpasses the 57 percent recorded in July 2020.
Those who are saying that "the worst is behind us" fell from 59 percent in June to 38 percent in September, the lowest since the record-low 35 percent in July 2020. (PNA)