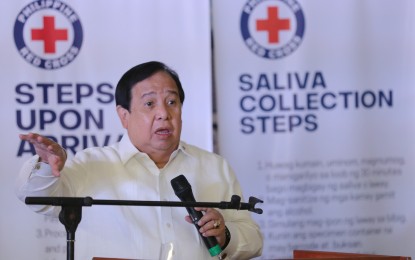 MANILA – The Philippine Red Cross (PRC) continues to support typhoon-affected communities in Catanduanes as the leading humanitarian organization distributes corrugated galvanized iron (CGI) sheets to 1,000 families in the towns of Gigmoto, Baras, Bato, and San Andres starting September 1.
The emergency shelter assistance consists of 10 CGI sheets and a set of shelter toolkits to be given to families assessed to have partially damaged houses brought by Typhoon Rolly last November 1, 2020.
Catanduanes and other parts of Bicol were badly damaged as the super typhoon made its first landfall over Bato, Catanduanes, and second landfall in Tiwi, Albay-- affecting an estimate of more than 800,000 families in 33 provinces.
"Preparations were made and assets were prepositioned before the storm. We were ready for the worst and I commend the volunteers and staff who were there from Day One until today as we help these communities recover," PRC Chairman and CEO, Senator Richard Gordon said as PRC was first on the ground with the local Red Cross chapter responding immediately after the landfall.
The PRC supported more than 12,000 families with medical tents, food and non-food relief, cash assistance, clean water, and hot meals.
The Typhoon Rolly operations also marked the first humanitarian voyage of the M/V Amazing Grace.
The PRC is supported by the Hong Kong Government, Hong Kong Red Cross Society (HKRCS), and the International Federation of Red Cross and Red Crescent Societies (IFRC). (PR)