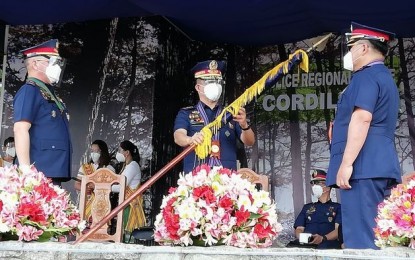 LA TRINIDAD, Benguet – The new chief of the Police Regional Office in Cordillera (PROCor) has advised commanders of the different police units in the region to continue pursuing their mandate and stick to operational guidelines.
PBGen. Ronald Oliver Lee, who assumed as the new regional director of the PROCor on Monday, said that in pursuing their mandate to continue the mission of the organization, commanders can come up with innovations to continue the campaign on illegal drugs, going after criminal groups and personalities, as well as the arrest of wanted persons but should be done based on their rules and procedures.
He urged them to continue intensifying the campaign against illegal drugs which is among the law enforcement problems in the region, particularly the illegal cultivation of marijuana plants.
Lee, a native of La Union and speaks the Ilocano dialect, also urged them to continue to partner with the different stakeholders
"We shall establish smooth working relations with the different stakeholders in the Cordillera. Let us strengthen our collaboration and partnership with them and empower them to open their communication lines with us. We can make this happen if we can show them that we are a disciplined and professional police force. Let us help build a region conducive for growth and development, a place ideal to do work and business," Lee said.
The reminder is also in keeping with the directive of Philippine National Police (PNP) chief General Debold Sinas to join hands with everyone for the achievement of a common goal in weeding out scalawags in the service.
"Team PROCor, let us continue to impose discipline among our staff, putting emphasis on those who are new in the service and weed out the scalawags, incompetent and incorrigible and reward the good performers and those who do good deeds," the police general said.
Lee also expressed support to the peace efforts of the government and asked those who have been misled by communist terrorists to take advantage of the offer of peace and better life of the current administration led by President Rodrigo Duterte.
He said PROCor has gone a long way as an organization with his predecessors building on a standard that has earned the tag of the National Police Commission as the unit that is the most disciplined policemen in the country.
"We shall continue to build upon our gains and legacies of previous commanders to further bring upon PROCor to greater heights. It will be a gargantuan task but I will continue to build on what my predecessor built and started," Lee said.
PLt. Gen. Israel Ephraim Dickson, chief of the Directorate for Integrated Police Operations (DIPO) in northern Luzon, meanwhile, said "it is a challenge to be assigned as head of the most disciplined cops and the people who expect much from the police but will test the capacity of a leader of the PROCor".
Dickson also served as regional director of the PROCor until February 2020. He was preceded by BGen. R'win Pagkalinawan who was replaced by Lee. (PNA)