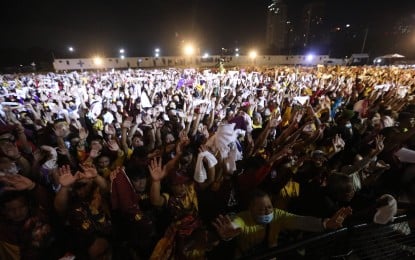 MANILA – Some 92,000 devotees attended the Fiesta Mass of the Black Nazarene at the Quirino Grandstand in Manila early Monday.
Fr. Earl Valdez, Quiapo Church spokesperson, said the celebration went smoothly.
"Generally we were able to hold it very well, executed well, our Mass is organized. Our devotees are well organized. So we can say that this third leg is successful," Valdez said in a media interview.
The Eucharistic celebration at the Quirino Grandstand which was celebrated by Manila Archbishop Cardinal Jose Advincula marked the first time since the coronavirus disease 2019 (Covid-19) struck in March 2020.
In his homily, Advincula urged the devotees to show their devotion through acts of compassion and charity.
"Let's empathize with our neighbors and care for each other. Let's reach out to our brothers and sisters, especially those who are struggling right now," said Advincula, the head of the Archdiocese of Manila.
Aside from the Fiesta Mass, two other activities were held at the Grandstand -- the "pagpupugay" (giving tribute) and the Walk of Faith.
The "pagpupugay" started on Saturday and will run until Monday, where devotees are allowed to touch and wipe with their towels and handkerchiefs the image of the Black Nazarene.
Meanwhile, the Walk of Faith procession where some 88,000 people walked from Quirino Grandstand to Quiapo Church on Quezon Boulevard, where the image is enshrined on Jan. 8.
The major difference between the procession and the traditional Traslacion, which was last held in 2020, was the absence of the life-size statue of Jesus Christ carrying the cross.
At Quiapo Church, fiesta Masses are also being held every hour since midnight on Monday. The last Mass will be at 11 p.m.
The Quiapo Church Command Center said as of 2:30 p.m., around 246,250 devotees have visited the church to pray and pay homage to the Black Nazarene.
Security
The Philippine National Police (PNP), meanwhile, said its units in Metro Manila have been on alert since Saturday to help the local police in ensuring public order and safety during the observance.
"So far, the activities are peaceful. I believe the people are aware of the protocols that need to observe as the pandemic lingers. We also call on those who have bad plans, especially pickpocketers, to spare the activity from their evil deeds. They should fear God's wrath," PNP chief Gen. Rodolfo Azurin Jr. said in a press briefing at Camp Crame in Quezon City.
In coordination with the Manila city government, Azurin said the police will implement the closure of some streets along and surrounding the areas of engagement, airspaces of which are also declared a no-fly zone for unauthorized aircraft including unmanned aerial vehicles or drones.