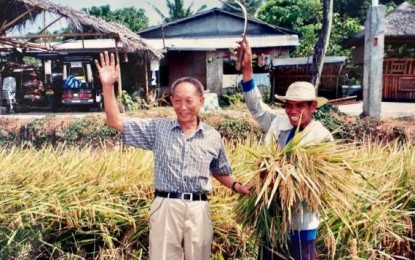 MANILA – Former and current leaders of the Philippine government paid tribute to the contribution of Chinese scientist and professor Yuan Longping to Filipino farmers who benefited largely from his hybrid rice varieties.
In a virtual conference on Friday, Agriculture Secretary William Dar said Longping's successful agricultural research paved the way for the Philippines to increase its rice sufficiency, among others.
"The Philippine government, especially in the agriculture sector, will be forever grateful for his [Longping's] involvement in teaching the hybrid rice cultivation method to our local farmers," he said.
Longping was a Chinese agronomist known for developing the first hybrid rice varieties in the 1970s and staving off hunger for millions.
He died at the age of 91 in China's central province of Hunan on May 22, as reported by the Xinhua News Agency.
Longping helped China cultivate the high-yielding hybrid rice needed to feed nearly one-fifth of the world's population with less than nine percent of its arable land.
The Philippines is one of the countries that benefited from Yuan's research.
Former president Gloria Macapagal-Arroyo also shared during the conference the significance of Longping's research, noting that during her term, there was a massive propagation of hybrid rice.
"By 2004, I have reports saying the farmers have doubled and some even tripled their previous incomes," she said, citing the notable improvement in the quality of Filipino farmers' lives due to Longping's help.
"The good professor is no longer of this world but is still in this world and will continue to be so for as long as varieties of hybrid rice are consumed by millions, even billions, of us in the world," Arroyo added.
The former president also cited that the Philippines owes a large part of its achievements in reducing poverty as well as improving its relations with China to the late scientist.
Federation of Filipino-Chinese Chambers of Commerce and Industry, Inc. president Henry Lim Bon Liong likewise recalled Longping's affection for Southeast Asia.
"Yuan said he had fulfilled his task of pulling Chinese people out of hunger, but many people in the Southeast Asian countries still got not enough to eat. He told me he wanted to make a change starting from the Philippines," Liong said.
Bearing this aim, in cooperation with Liong, Yuan sent 75 hybrid-rice strains to the Philippines for a trial plantation in a five-hectare land.
Having spent years of laborious research and constant testing, Liong and Yuan successfully cultivated the pioneer hybrid rice for tropics, which possesses high yielding potential, good grain quality, and multiple resistance to diseases and pests.
Hybrid rice for tropics was subsequently grown gradually in northern and southern Philippines, and farmers reaped incredible output after switching to Yuan's hybrid varieties.
Now its accumulated planting area in the Philippines has exceeded one million hectares, covering 30 percent or higher of the total rice production.
"The hybrid rice developed by Yuan's team here now has achieved the highest yield of 15 tonnes per hectare, which is about three times higher than that of conventional rice strains in the Philippines," Liong said, adding that Yuan, his teacher, should take all the credit. (PNA)