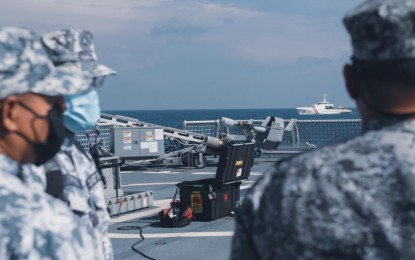 MANILA – The United States Coast Guard (USCG) is helping its Philippine counterpart strengthen the country's maritime domain awareness.
In a teleconference on Friday, USCG Vice Admiral Michael McAllister said Washington DC wants to give Manila the capacity and the capability "to spend more time beyond their littorals".
The USCG and the Philippine Coast Guard recently concluded joint exercises in the West Philippine Sea but McAllister clarified this does not necessarily mean there was an intention to send a message.
"I'm not going to say that activity near the Scarborough Shoals was necessarily intended to send a message; but when you think about the Philippines' claim for their waters, that opportunity to get them out further from shore, do maritime awareness, and – when appropriate – enforce laws and treaties within their Exclusive Economic Zone (EEZ), it simply requires that we get them further from shore," he said.
Scarborough Shoal or the Bajo de Masinloc was the site of a tense standoff between China and the Philippines back in 2012. The shoal is around 124 nautical miles off the coast of Zambales.
McAllister said maritime domain awareness involves increasing capacity to identify activities going on in a country's sovereign waters, "with the idea that you would be able to respond to any threats."
Aside from this, the USCG and PCG had also run a series of search-and-rescue and communication exercises as well as small boat operations and multi-vessel maneuvering while at sea.
The USCG Cutter Munro arrived at the Subic Bay in Zambales on Tuesday following the maritime exercises in the West Philippine Sea. It departed its homeport of Alameda, California, in July for a months-long deployment to the Western Pacific.
Munro, a 418-foot national security cutter, operates under the tactical control of the US 7th Fleet and engages with capacity-building exercises with partner nations. (PNA)